I wandered lonely as a ...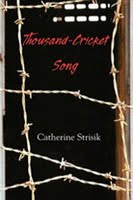 I must admit that
poetry
has always manged to pass me by without making much of an impact. However, that's not to say that occasionally my attention is grabbed by a poem, but it's a rarity for sure. If on the other hand, you are into your poetry and would like to brush up on works that feature Cambodia, there are a handful of books you should be aware of. Expected out this month in Khmer and English is the poetry book
O! Maha Mount Dangrek: Poetry of Cambodian Refugee Experiences
by the late Venerable Ly Van. He died in Lowell, USA in 2008 but his poems live on and are now being published. The title of the book refers to his survival of the Dangrek Mountain incident of 1979 when around 45,000 Cambodians were forced down the mountainside by the Thai army at gunpoint; many of whom lost their lives. Other poetry books of note are
Sacred Vows
by U Sam Oeur,
Fuchsia in Cambodia
by Roy Jacobstein,
Storytelling in Cambodia
by Willa Schneberg and another recent publication,
Thousand-Cricket Song
by Catherine Strisik (above); a poetry collection inspired by her experiences in Cambodia and published last month by Plain View Press.
Labels: Cambodian Poetry