Withdrawal symptoms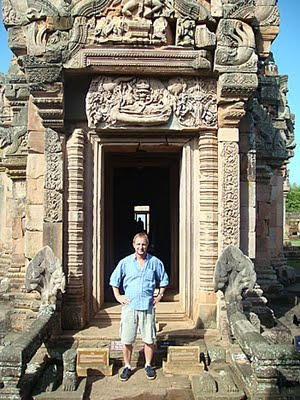 Standing in front of the famous Reclining Vishnu lintel at Phnom Rung in Isaan, and I'm looking a little portly I might add - time for some exercise
Where's the temple stuff? An email arrived in my in-basket today asking exactly that, as they were seemingly getting withdrawal symptoms due to the lack of temple coverage in recent weeks. To be honest I've been so busy finishing my book that I've had little spare time to load photos from my temple visits in Isaan, Angkor, Banteay Chhmar and beyond. They are all still in the pipeline. Never fear I will get to them, I promise. If you believe that, you'll believe anything. No, seriously, I will do it. Here's a photo by way of an apology.
My current visitor Ting will depart back home to Taiwan on Saturday morning. She's been a real trooper, getting out and about under her own steam whilst I've been stuck in the office. Today she was off to Koh Dach to see the silk weavers after spending the last few days up in Siem Reap. No complaints, she's just got out and done her own thing. Bless her.
With her departure, she'll be cock-a-hoop to miss the weekend's football, which I subjected her to last weekend. The Hun Sen Cup last 16 round will be completed with a few more of the big boys playing tomorrow and Sunday. I'm hoping Nov Soseila will be back on the pitch for the Defense Ministry tomorrow as he's always a joy to watch, though an injury he got for the Cambodian national team a couple of weeks ago may not have cleared up. Sunday will see Khemara and Preah Khan Reach in action, with all the big names from the CPL expected to sail through to the quarter-finals. Talking of football, I'm coming to the end of an engrossing fictional look at the Asian football scene by Neil Humphreys and his novel Match Fixer. Football, sex, drugs, gangsters and match-fixing in Singapore are at the heart of this rattling good read. Definitely recommended.
Labels: Hun Sen Cup, Match Fixer