Casino teams go through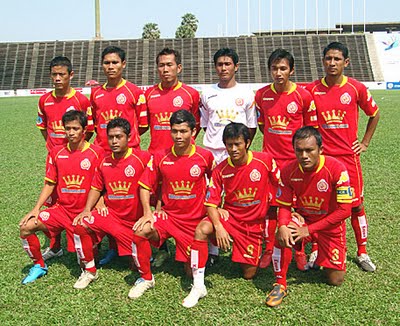 Phnom Penh Crown looking mean and moody before beating Wat Phnom 5-1 though I don't know why the guys in the front row have to place their hand on their teammates upper thigh - very weird
Now for a look at yesterday's
Hun Sen Cup
quarter-finals where Phnom Penh Crown dominated their game against Wat Phnom from start to finish, winning 5-1. Crown striker Heng Sokly should've netted a hatful. Instead, he rolled a couple of chances agonizingly wide early doors before finally finishing with some aplomb late on. Crown's national team centre-half Tieng Tiny netted twice in the 1st half, one a delicious curling free-kick from the edge of the box and his 2nd, a penalty after Chan Chhaya had fallen over theatrically when challenged by Wat Phnom's keeper Pov Reaksa. In between, Wat Phnom levelled when Crown's Peng Bunchhay, who looked a bag of nerves throughout the game, spilled a routine catch from a corner at the feet of Ry Phearoeun, who rifled home. After the break, Hong Ratana dived full-length to head in a spectacular effort and Srey Veasna and Heng Sokly completed the rout. Referee Yien Kivatanak had a quiet second game in the middle, after his dramatic debut a couple of weeks ago when he sent off 4 Kirivong players.
The Naga trio of Teab Vatanak, Sun Sovannrithy and Om Thavrak stood out in their 6-0 demolishion of Build Bright United. Vatanak netted a 4-goal haul in the 2nd half, Sun Sovannrithy, in his new unfamiliar striking role, scored two and set up two more, whilst Om Thavrak kept Naga in the game in the 1st half when BBU briefly flourished. It was a good day for Vatanak, who has overcome a career-threatening knee injury and showed his goal-poaching instincts to sink BBU and give Naga a mouthwatering semi-final match-up with fellow-casino sponsored Crown (and a repeat of last year's final).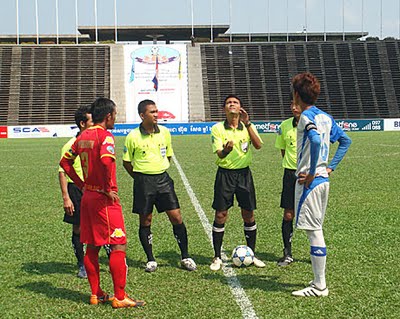 Referee Yien Kivatanak had a good day at the office, only booking 2 players, in his 2nd match in the middle. Here he gets the toss-up right as well.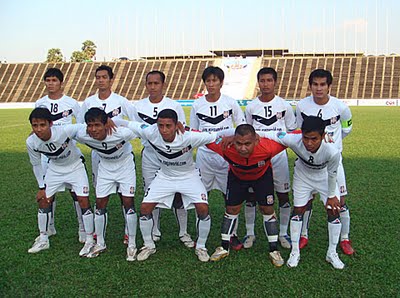 Naga Corp in a kit I've never seen before, prior to their 6-0 win over BBU. Teab Vatanak (10) netted 4 goals.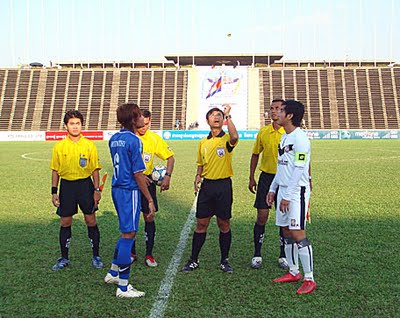 Continuing my series of 'Great toss-ups of the Weekend' - this one captures that particular moment of joy between the captains of BBU and Naga
Labels: Hun Sen Cup