Brothers Grimm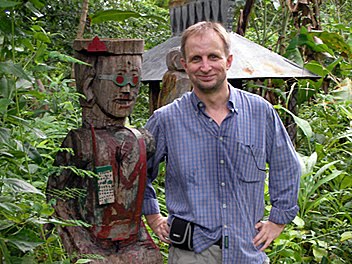 Hot and sweaty in a Ratanakiri cemetary. I'm the one without glasses.
I had to select a photo of myself to go into
the
book - you know the one I keep mentioning from time to time and which looks set to be out sometime in June or July, with a fair wind and no natural disasters. Don't tell me you've forgotten already. It's called To Cambodia With Love. I chose the photo above, taken on my first ever visit to Ratanakri province in October 2007. Hopefully readers won't confuse me with the wooden effigy next to me. That's the one wearing glasses if you're still not sure. It was taken in the chunchiet cemetery in the Tampoun village of Kachon Leu, on the banks of the Sesan River near Voen Sai in Ratanakiri. There are about 100 graves there and the wooden and stone carvings are meant to represent the deceased when they were alive. And yes, it was very hot and humid that day. I did think about the one below, but rejected the idea!
Labels: To Cambodia With Love