SSBD didn't stir me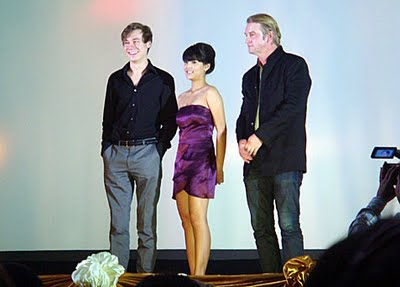 The two stars of SSBD, David Kross and Apinya, alongwith director Detlev Buck on stage before tonight's screening
Tonight was the Cambodian premiere of the movie
Same Same But Different
, which would've been fine if it started on time, at 7pm, and we hadn't had to sit through nearly 90 minutes of pre-film twittering from director, producer, numerous cinema people and my cat before the picture started. It was a full house and I managed to watch about forty minutes of it before I had to leave for another appointment. I wasn't impressed at all with what I saw. A bagful of cliches including rocket launcher and cow, before backpacker meets hooker, girl has HIV and boy decides to stick by her. That just about sums it up and despite a lot being made of the German-meets-Cambodian connection, it won't make my 'must buy' list. Considering the film is shot entirely on location in Cambodia, the fact that the main actress is Thai is a bit of a kick in the teeth.
Prior to the screening, I popped into Le Lezard Bleu on St 240 to catch the
Ancient Pagodas of Battambang
painting exhibition before it closes at the end of the month. There's nearly 30 paintings by two artists, Long Kosal & Leurm Lorn, both out of the Phare Ponleu Selpak organization that is creating quite a buzz in Battambang and beyond for their artistic creativity. The paintings were damn good and sell for around $200 apiece.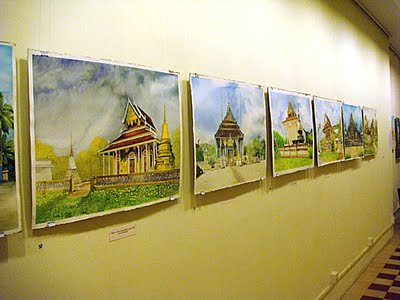 One of the walls at Le Lezard Bleu with the paintings on display