Looking forwards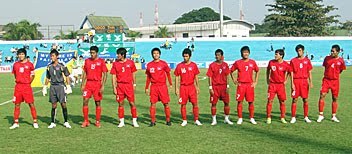 2010 will be an important year for the Cambodia national football team after 2009 ended with their SEA Games elimination in Laos. In fact, Laos will host the next serious competitive international tournament that Cambodia will take part in, the
AFF Suzuki Cup
qualifying rounds in October 2010. The five lowest Southeast Asian ranked teams - Laos, Cambodia, Philippines, Brunei and Timor-Leste - will all compete in a round-robin tournament format and the two leading teams will progress to the finals of the 2010 Suzuki Cup. The qualifying games in Laos will be held from 14-24 October. I expect Vientiane will be the venue. The last time Cambodia were in the qualifying tournament was in 2008, held in Phnom Penh, from which they emerged in second place behind Laos and qualified for the finals, though came back home empty handed with no points. That will be their objective again, to qualify for the finals, where they would hope to do better than their results against Singapore (5-0), Indonesia (4-0) and Myanmar (3-2) in December 2008. The finals of the AFF Suzuki Cup will be held jointly by Vietnam - the 2008 winners - and Indonesia. Six teams - Vietnam, Thailand, Indonesia, Malaysia, Singapore and Myanmar - are already guaranteed a spot in the finals and will be joined by the two qualifiers from the event in Laos. The finals will take place in the first week of December 2010.
Another major international fixture for Cambodia in 2010 will be the two qualifying matches, home and away, for the
2014 FIFA World Cup
. The draw for which fellow Asian country Cambodia will face has not yet been made but the matches will take place on 8 and 12 October 2010, just before the Suzuki Cup tournament in Laos. Camboodia failed at the first hurdle in the opening qualifying round for this year's World Cup, when they lost 5-1 on aggregate to Turkmenistan (the games were played in Oct 2007).
The Cambodian football federation will need to decide on who will lead Cambodia into the above matches. Aussie coach Scott O'Donell took on the national team job, for a 2nd time, in June of this year, with a 1-year contract, that will expire in the middle of 2010. Continuity is absolutely vital if Cambodia are to keep progressing and O'Donell's knowledge of football in the region and his no-nonsense approach have already ensured that Cambodia are heading in the right direction. The U23 squad that gained invaluable experience in Laos recently will form the backbone of the national team next year and it would be foolish to change direction at the helm in my view. O'Donell is the man for the tasks that lie ahead.
Labels: 2010 AFF Suzuki Cup, 2014 World Cup, Cambodia football, Scott O'Donell