The good and the bad, and now the ugly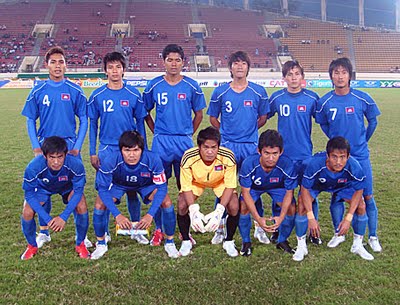 The Cambodian team line-up before tonight's win over Timor Leste. LtoR: [back] Tiny, Sokngorn, Rithy, Rady, Sokumpheak, Borey: [front] Narith, Sovannarith, Seiha, Sothearath, Chhaya.
The good news is that Cambodia swept aside Timor Leste/East Timor with a great deal of ease at the National Stadium tonight, winning 4-1 but in truth, the scoreline should've been considerably higher. We didn't take as many of our chances as Scott the coach would've liked, that's for sure. Two goals each for Keo Sokngorn and Kuoch Sokumpheak, but we also allowed Timor to score in the very last minute with their first serious shot on goal. That was a pain but the victory was the important result if we are to harbour any serious hopes of qualifying to the semi-finals. Much more detail to follow, but the not so good news is that as I made my way to the touchline from up in the stand at the end of the game, I came a cropper, banged my head on the pavement, cut my forehead just above my left eye and had to sit in the doctor's room for twenty minutes while he cleaned and then stitched the cut with three stitches - missing the end of match celebrations in the process. Goodness knows what it'll look like in the morning and once the stitches come out. I will have a scar to remind me of our 4-1 success over East Timor. I'd rather have just had the photos! You'll have to excuse me, I have a blinding headache.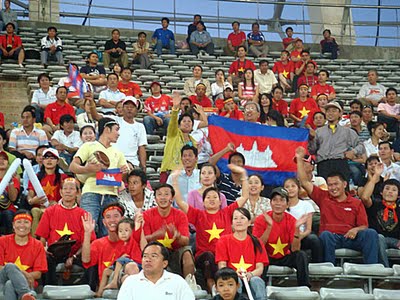 I spotted three Cambodian flags in the 300+ crowd-crowd. This one belonged to a Khmer family living in Vientiane.
Labels: Cambodian U23s, SEA Games