A brighter future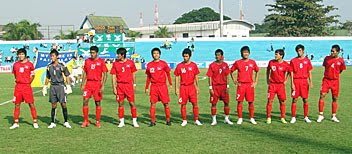 This article on football in Cambodia appeared on the FIFA.com website recently, putting a positive spin on where we are today.
Cambodia build for a bright future
Although ranked at the lower echelons of the Asian football pecking order, Cambodia are showing positive indicators for the future of the world game in the South-East Asian nation. A fast-growing national league, historic progress in the women's game and a raw love for the game make for a promising outlook in the nation wedged between Thailand, Laos and Vietnam. Next year is set to be critically important for their national team, who face the dual challenge of 2014 FIFA World Cup qualifiers and Suzuki Cup preliminaries during the latter stages of 2010. Under respected Australian coach Scott O'Donell, the Cambodians are aiming to repeat the success of two years ago, when they qualified for the Suzuki Cup, the South East Asian regional championship.
Young brigade
Earlier this week Cambodia completed their South-East Asian games commitments with O'Donell using the U-23 tournament as the first building block in the next stage of the senior national team's development. Now in his second spell as national team coach, the 42-year-old - who is the first Australian to coach a foreign national side - is very much focussed on youth. O'Donell intends to fast-track the majority of the U-23 national team to senior level. "My plan is to keep the U-23s together as the national team. Although there will be a few older players, my general idea is to keep the younger boys together and make them the future of the national team," he told FIFA.com.
A lack of international experience is what could prove the undoing of the Cambodians if the experiences of the last fortnight in Laos are any gauge. "Against Thailand we were losing 1-0, having created some great chances, but then conceded two goals in two minutes of injury time, so for that to happen against the favourites meant were couldn't get back into the game," said O'Donell, a former Director of Coach Education at the Asian Football Confederation. "It was a similar story against Malaysia. Unless the players get used to playing against good teams and stay focused and concentrated for 90 minutes, then we will get punished. So that is the tough lesson that came out of the tournament for the players. "We have to try and play to our strengths," O'Donell continued. "We are not big and we need to play in a similar way to the Thais or the Vietnamese, with quick movement of the ball and movement off the ball. I'm trying to implement a style in which the players can use their strengths.
Football passion
The Cambodian Premier League, which features nine clubs from the capital Phnom Penh and one from the Takeo province, has recently received a significant injection with a recent sponsorship, and the league has also boosted in recent times through the addition of a number of international players. "The league is becoming more competitive compared to when I first arrived, when it was very lop-sided," said O'Donell. "This year the league is a lot more competitive, with some foreign players coming in as well."
Earlier this year, a Cambodian girls U-16 national team made the 1,200-kilometre journey by road to play against Laos and in doing so created a small slice of history as the first female team to represent this Asian nation. The popularity of the game for both genders remains undiminished despite the relative lack of international exposure, and numbers continues to boom at a significant rate. "If you go to the national stadium on any afternoon, there are hundreds and hundreds of children playing football, bare-footed, across all age groups," says O'Donell. "Football is so popular. We had over 35,000 to see the (U-23) national team play (in a tournament final) in November, and I have never seen that in Cambodia before. If Cambodia can achieve some relative success on the regional stage, then there will be even further growth."
Labels: Cambodian football, Scott O'Donell