U23s come unstuck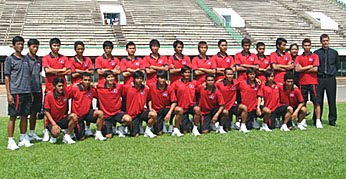 The
Cambodian Under-23s
came unstuck in their 4th practice match of their month-long training camp just outside Saigon. Unbeaten in their previous three games, they went down 4-1 to Can Tho, who finished 3rd in the V-League 1st Division last season. They have a chance to put that right on Wednesday evening, when they will face the same team again.
In Sunday's match, the national coach Scott O'Donell commented; "we had a very positive first half which finished 1-1 at the break, with Kuoch Sokumpheak scoring after some good lead-up work by Chan Chhaya. I made seven changes throughout the second half and we conceded three very soft goals, which was extremely disappointing."
The U23s have also been blighted by injuries that have disrupted preparations in the past week, with O'Donell lamenting; "frustratingly, we have been unable to field what we think may be our first eleven at any time while we have been here. But having said that I think I have given every player the opportunity to show what they can do. The training tour has allowed me to see players in training and playing situations and how they respond/react to different situations."
The six players who were unavailable for the Can Tho match were: Pheak Rady - allergic reaction; Keo Sokngorn - hip/groin; Oum Kumpheak - ankle; Chhun Sothearath - knee; Sun Sovannarith - toe; To Vann Thann - ankle. The U23s have one more game before their training camp comes to an end and they return to Phnom Penh on 5 November. They then have 3 days before their 1st match in the BIDC Cup on 8 November against HAGL from Vietnam.
Labels: Cambodian U23s, Scott O'Donell