The stars of tomorrow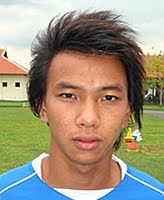 Developing schoolboy and youth football in Cambodia is an absolute must if the stars of tomorrow are to be identified and nurtured properly from a young age. There are two organizations who are doing wonderful work in this area but Cambodia needs many more. It needs every major town in the country to have its own organized league competition with football teams at various age levels playing regularly, on well-maintained pitches. Only then will it find the Keo Sokngorn's (pictured right) and Nov Soseila's of the future. The SALT Academy in Battambang and the Indochina Starfish Foundation have programs that provide football as the centrepiece of their aims but also provide leadership and life skills training as part of the work they do, both for boys and girls. This type of grassroots work is absolutely vital and both organizations are to be commended for their wonderful efforts. The next stage is to widen the net of football at grassroots level to incorporate every corner of the country, so that football becomes a part of the culture, there are opportunities for everyone to take part and the best players are identified and fed into a system of trials and games for the national team at all age levels. This doesn't happen overnight and money, qualified coaches, suitabel playing surfaces and so on are needed to make this a reality of the future, but that must be the goal of the Football Federation of Cambodia, as the flagship for football in this country.
Find out more about the two organizations above at
SALT
and
ISF
.
Keo Sokngorn
is still just 17 years old but has been a bright star in the Cambodian Premier League for the last couple of seasons. His success with Phnom Penh Crown has ensured he's a regular in the Cambodia national squad, was captain of the Under-17 team and is one of the country's best prospects. He was born in Kratie and played for his local team, Moha Garuda before switching to Crown. Interviewed for Goal.com in September 2007, he said he'd love to play in Vietnam in the future, especially for HAGL. Well today he has the opportunity to play against HAGL for the Cambodian national team and to showcase his talents once more.
Last night was the official dinner of the BIDC Cup tournament with all teams and officials invited to TaTa restaurant in Preak Leap for food and drinks and song. Some of the Vietnamese attendees wasted no time in getting on stage and displaying their vocal dexterity, followed closely by the Brazilian contingent of HAGL, who added some South American flavour to the evening. It's back to the important stuff this afternoon as Vissai Ninh Binh meet the Laos U23s for the third place play-off at 3.30pm, followed by the Cambodia U23s v HAGL final at 6pm. A $20,000 cash prize, to be shared amongst the members of the winning squad, is up for grabs, with the runners-up getting $10,000. More importantly for the Cambodian team, its another chance to pit themselves against one of Vietnam's best club sides and to get another game under their belt in their preparation for the SEA Games in a couple of weeks time. Don't miss it.
Labels: Cambodian U23s, ISF, Keo Sokngorn, SALT