Snippets from the footy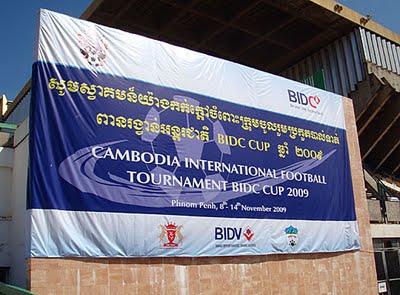 Scott O'Donell, the Cambodian coach, revealed that despite coaching the national team in two spells for over 2.5 years, this was only his 4th game to be played on home soil. He enthused about the support of the home crowd for the game against HAGL and said it was great for the players to win in front of their home fans and to receive such great support.
The two matches on Sunday were televised live by the TV5 television channel. There were also cameras there from CTN and Apsara TV. Actually, I'd love a copy of the tape from the Cambodia game - it could become a best-seller.
Talking of tv, I was interviewed by commentator Nguyen Khac Cuong of VTV, the national Vietnamese television broadcaster, who were covering the game and wanted to hear more about football in Cambodia. I think I was the only person around at the time.
All of the press were issued with sky blue 'press' bibs for the occasion. As a fashion statement they looked awful. Hence there's no photo of me wearing one. And the FFC even remembered to reserve some seats in the main stand for the press this time around. Unfortunately, the organization of the opening day of the tournament was a mite chaotic. The control of the tv cameramen and press photographers was non existent when the teams were presented to the VIPs and it looked more like a rugby scrum than an international event. In addition, the opening ceremony was held between the two matches and dragged on far too long. It meant the 2nd match kicked off 30 minutes late and the players were made to hang around much too long after their pre-match warm-up.
BIDC and the sponsors of the tournament have dug deep into their pockets to provide a series of monetary rewards. The winners of the cup get $20,000, 2nd place is half of that and 3rd place gets $5,000. There are $1,000 prizes for the most valuable player, top scorer and best goalkeeper. There's also a reward of $200 for the scorer of the first goal in each game. That was won by Sayavuthi Khampeng of Laos and Bui Xuan Hieu of HAGL in yesterday's games.
The 2 Vietnamese teams in the BIDC Cup have a sprinkling of foreign players in their ranks. Two of Vissai Ninh Binh's players received Vietnamese citizenship earlier this year and were called into the Vietnamese national team. They were goalkeeper Dinh Hoang La, who is Ukraine-born and was formerly called Lytovka Mykola, and Dinh Hoang Max, a Nigerian-born striker who used to be known as Maxwell Eyerakpo. VNB also have another Nigerian and an Ivory Coast player in their ranks. HAGL have 3 Brazilian players (Toledo, Goncaves and Barbieri), a Czech keeper in the massive frame of Michal Silhavy and another player from Ghana in their squad.
Labels: BIDC Cup