Scott on his SEA Games selection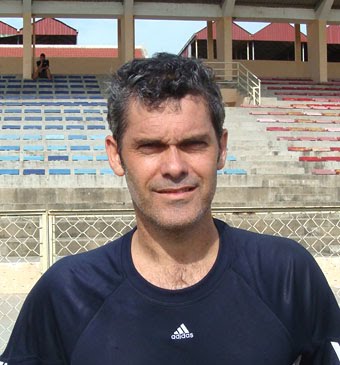 In an exclusive interview with Cambodia's national football coach, Scott O'Donell, I sought his views on the high levels of expectation that have gripped the Cambodian public following their BIDC Cup success earlier this month, just before they set out for Laos to take on the rest of the region's footballing giants in the 25th Southeast Asian Games. "I expect the players to go out and give 100% and try their very best. I think people have to be realistic and honest with themselves that it was great to win the BIDC Cup, the players did very well and it was great for their confidence but there's a big difference in the BIDC Cup, where we played Laos and 2 professional Vietnamese clubs in the middle of their pre-season. There's a big difference in these two teams and the Thailand, Vietnam and Malaysian U23 teams and I think people have to be aware of that. It was great to see the support at the Olympic Stadium in the final of the BIDC Cup, great to see so many people supporting the national team but we have got to be realistic and there's a big difference playing in a friendly tournament at home to playing in the SEA Games. The players have worked hard over the past six weeks and we're going to do the very best that we can, I can't ask anymore than that."
How would you compare your current squad with the 2007 squad you took to Khorat in Thailand? "Five of the current squad, Seiha, Tiny, Sovannarith, Sokumpheak and Borey played for me in 2007. It will be an advantage for the players who've experienced SEA Games competition before, having those relatively senior players is a big help for the younger players, because we have got a lot of young boys in the team, and it'll be their 1st trip to the SEA Games and their first real international tournament at a relatively senior level, so it'll be a big help. I would say in what we've been doing for the last six weeks, I think they have grasped how I want them to play a lot better and they have a good understanding of what I want and expect from them. Its easy to do it in training, the question comes can they do it under pressure against better players and that's the big test and that's always going to be a question that'll be asked when Cambodia plays, until we start playing regular international football and start pitting ourselves against better teams more regularly."
How will you approach the competition, against some of the region's best teams? "We'll be approaching the games in the same way as we approached the BIDC Cup games and in training. How we played in the BIDC Cup is how we're going to try and play, hopefully better, and in terms of our tactical approach and how we set ourselves up, formations and style, will be exactly the same. We haven't trained for anything else, we don't intend to get ten players defending the penalty area – we're going out there to try and play good football. When we get the ball I want us to play, I want to enjoy watching my team, I want the players to enjoy playing and that's what we are going to try and do."
"What we did in the BIDC Cup is what we'll do in the SEA Games. No intention of doing anything different from my first training session until this morning – we want to play attacking football if we can, if the opposition allows us to do that, and we'll be trying to score goals. What we've got to work on improving is conceding goals."
"We've got to play them [Thailand and Vietnam], it doesn't matter if it's the first game or whenever. The advantage we have, if you can call it that, is that we don't play in the first round of games, so we get to watch all four teams. I've got some videos, a few match reports, scouting reports, and we've got a fair idea of what we're up against. We know that Thailand & Vietnam, if you ask the majority of the coaches at the SEA Games, are the two favourites to go through. Malaysia have got some good boys, they've been together for a long time, playing in the U21 team in the Malaysian Premier League and they've got some good results over the past year, playing a lot of friendly games, a lot of exposure and there are high expectations. The higher the expectation for the opposition, the better it is for us. I know nothing about East Timor at all apart from they've done well at U19 level."
Your preparation has gone well and are the players fit and well? "I said before the BIDC Cup it was an excellent tournament for us to participate in. The time we spent in Vietnam was great too. It was hard work, the boys did very well, they worked extremely hard and under the circumstances, for the six weeks we had to work with them, I couldn't have asked for anymore. What I would've liked is a lot more time with the players, but circumstances didn't allow that. Given that we only had six weeks to do what we did, I was happy with it."
"I wasn't happy with their fitness when we tested them when we first arrived in Ho Chi Minh. But as I said the boys worked very hard and their aerobic and anerobic fitness levels all increased while we were there, as you'd expect it to do, I'm happy with it. Once again the problem we'll have is in a high intensity game, being able to reproduce that over 90 minutes is a different thing. Fitness testing is a good indication but nothing replicates game situations of high intensity pressure – but I'm happy with the players fitness levels."
"The players are looking after themselves, looking after their injuries now and eating the right food and I'd like to think that when we train it's a more professional approach. When we make a mistake in training, it's just like making a mistake in a game, we don't laugh and joke about it. The players are taking their responsibilities in training seriously because training is just as important as the games."
Why choose Sun Sovannarith as your captain? "He's been in the national team for five years now, he's an experienced player, a very good player, sets a good example to the younger boys and he's one of the players who should be playing overseas somewhere because he's got a lot of ability. He's a good boy and I trust him. He has the respect of the coaching staff and the players, which is important."
How important is the fans' darling, Nov Soseila, to your plans? "Sometimes he's my darling and sometimes he's not. When he does what he's told, he's a very good player, a very dangerous player as we saw in the BIDC Cup. He likes to take on players and has got that little bit of mongrel in him which I like. He's got loads of ability, but he's got to be switched on and concentrating all the time and use his brain. He's a good outlet for us."
How strong is your squad and any injury concerns? "The boys who may not make the starting eleven have been given plenty of opportunities, they know how we're going to play and I've got full confidence in the nine players who'll be sitting on the bench. I'll have no hesitation to put any of them on the field at anytime during the game. They will all go out to do a job."
"We had a thorough check on Sothearath. He's got a few issues but nothing that will cause any more damage. He's structurally sound and in the last ten days in Vietnam he trained full on. He's got confidence from being told there's nothing seriously wrong with his knee. He played nearly a full game the other day at Can Tho and he's an important player in the team and we missed him in the BIDC Cup."
Labels: Cambodian U23s, Scott O'Donell, SEA Games