Looking ahead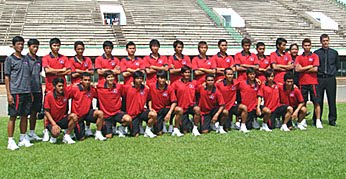 The
BIDC Cup
begins on Sunday at the Olympic Stadium and the Cambodian Under-23 team will be up against Hoang Anh Gia Lai, better known as HAGL, from Vietnam in their first game at 6pm. HAGL will be a very tough nut to crack I can assure you. Though they can only play 3 foreigners at any one time, they have a very strong line-up in preparation for the new V-League season and are expected to win honours. Its actually the 2nd match after Vissai Ninh Binh play the opener against the Laos U23s at 3.30pm . All the games will be shown live on TV5. Here's a piece I did for the Phnom Penh Post, previewing the tournament.
The eagerly-awaited Bank for Investment and Development of Cambodia (BIDC) Cup 2009 tournament will kick-off on Sunday at the National Olympic Stadium in Phnom Penh with four teams battling it out - the Cambodian and Laos Under-23 teams who will compete next month in the South East Asian Games in Laos, and two Vietnam League club sides, Hoang Anh Gia Lai (HAGL) and Vissai Ninh Binh. Each team will play one another with the two best placed teams meeting in the final a week on Saturday, 14 November for the cash prize of US$20,000 for the winners, and half that for the runners-up. Besides the prize money and much-needed match practice for the two national Under-23 teams prior to the all-important SEA Games, the tournament is being seen as a sign of friendship and solidarity between the three nations as well as a celebration of Cambodia's 56 years of independence from France, with Independence Day on 9 November.
Cambodia's squad have just returned from a month's training camp in neighbouring Vietnam , where they enjoyed the hospitality of the Thanh Long training centre just outside Ho Chi Minh City . They took the opportunity to prepare for the forthcoming SEA Games without distractions and played a series of five practice matches against local opposition to test their match fitness. Their preparation continues with the BIDC Cup matches against what is regarded as very strong opposition, with the Laos Under-23s having recently triumphed on home soil in a pre-SEA games tournament. Their success against Malaysia , Thailand and Vietnam will give the Laos team, coached by former Austrian international Alfred Riedl, who also coached the Vietnam national team in three separate stints, bags of confidence coming into the BIDC Cup matches.
As for the two Vietnamese League club sides involved, HAGL will be the one to watch, having recently performed well in a tournament in Phuket, where they eventually lost 9-8 on penalties to the full Thailand national team in the final. HAGL are a nursery club for Arsenal and have a proud history in the V-League, having won the league and cup double on two occasions in 2003 and 2004 and like their British counterparts, are gunning for honours again this season, after finishing sixth last term. They have a smattering of foreign imports from Brazil , Thailand , Czechoslovakia and Ghana in their ranks as well as USA-born Lee Nguyen, who spent three weeks training at Arsenal recently, having arrived at HAGL last January after spells with Dutch side PSV Eindhoven and Randers in Denmark .
Fellow V-Leaguers Vissai Ninh Binh tasted success at the end of last season when they were crowned champions of the Vietnamese First Division and will play alongside the likes of HAGL for the first time this term. They mean business, having signed two current Vietnam internationals in Nguyen Viet Thang and Vu Nhu Thanh and are rumoured to be keen to bring another former Vietnamese national coach, Brazilian Edson Tavares, on board as their club coach. They have also announced ambitious plans to build a 30,000-seat sports stadium. Vietnamese football is on the up these days and after the national team won the AFF Suzuki Cup in 2008, defeating Thailand in the final, everyone in Asia sat up and took notice. These two representatives from the V-League will provide a stern test to both Cambodia and Laos as they concentrate on preparing for the SEA Games, less than a month away.
The draw for the BIDC Cup:
Sun 8 Nov: V Ninh Binh v Laos U23 (3.30pm): HAGL v Cambodia U23 (6pm)
Tue 10 Nov: V Ninh Binh v HAGL (3.30pm): Cambodia U23 v Laos U23 (6pm)
Thu 12 Nov: Laos U23 v HAGL (3.30pm): CambodiaU23 v V Ninh Binh (6pm)
Sat 14 Nov: 3rd place play-off (3.30pm): Final (6pm)
The matches will be shown live on channel TV5.

The BIDC Cup winners collect $20,000, 2nd place $10,000 and 3rd place $5,000. Player of the tournament, top goalscorer and best goalkeeper will also receive $1,000 each.
Labels: BIDC Cup, Cambodian U23s, SEA Games