Gone but not forgotten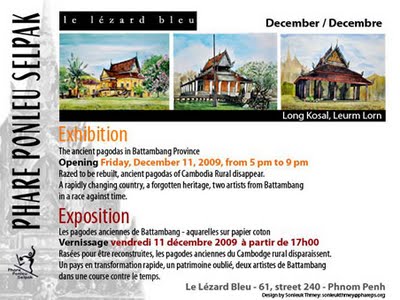 The folks at
Phare Ponleu Selpak
(PPS) in Battambang are busting a gut to get their name and their wide range of activities known throughout Cambodia and elsewhere. The thriving artistic community that makes up the PPS organization, and which provides schooling to hundreds of children in Cambodia's northwest city, are perhaps better known for their circus performances and have been in the capital this week, with a couple of shows. One of the PPS future exhibitions that caught my eye will take place at Le Lezard bleu cafe on St 240 from Friday 11 December (5pm) and will remain on display for the rest of the month.
Ancient pagodas of Battambang Province
is the title of the exhibition, which showcases the talents of artists Long Kosal and Leurm Lorn, who have captured, on canvas, some of the most remarkable examples of these older wats which populate their province of Battambang. There is a saying in Cambodia that new is better than old and that is applied across the board, often at the expense of beautiful ornate structures such as pagodas. This exhibition will give us a chance to see these wats before they disappear forever. Find out more at the PPS
website
. Interesting fact of the day: Across Cambodia there are 4,307 pagodas with 55,000 monks in attendance.
Labels: Battambang, Phare Ponleu Selpak