Demaz in print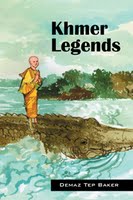 Whilst I am on the theme of books, Cambodian author
Demaz Tep Baker
has written two books, one on Cambodian cuisine and the other on Khmer folktales, and both are available through Xlibris and Amazon respectively.
Khmer Legends
(right) is her most recent book, released in June 2009 through Outskirts Press, 130 pages of wonderful childhood stories, memorized over the past decade and now published in all their glory. Demaz is also a foodie, she's been teaching Cambodian cooking classes for a decade, latterly out of her home in Virginia, USA. Her cook-book,
A Taste of Cambodian Cuisine
, 110 pages of recipies and cooking instructions, is now back in print, updated and improved, having been originally published in 1999. Demaz was born in Cambodia but fled to France in 1975 and then to the USA a year later.
Labels: Demaz Tep Baker