2 self-published books reviewed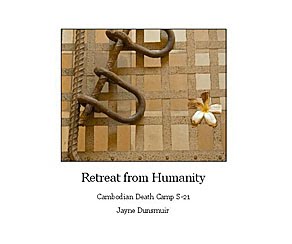 Book Review
I have two books to review, both self-published using the facilities afforded by blurb.com. The first is Jayne Dunsmuir's
Retreat from Humanity: Cambodian Death Camp S-2
1. It's in hardback and is 60-odd pages, half of which are the author's own photographs from Tuol Sleng or Choeung Ek and the other half are quotations from various sources that she chose to illustrate her subject. Many of the photos are of victims at S-21 or the detention cells but there's enough variety in the chosen pictures to provide an insight into the prison as a whole, while a two-page preface from the author sets the scene at the beginning of the book. I viewed it as a very personal document by the author, a memory of her visit, a reminder of the cruelty of man with carefully chosen excerpts from people like Vann Nath, one of S-21's few survivors - actually, the sort of book that I'd love to publish myself as a permanent reminder of my visit. More formal than an album full of photos. The photos are clear and crisp and the ones I liked the most showed portraits of the victims lying forgotten and covered in dust in rooms not accessible by the public - the unseen face of S-21 if you like, which could've made an interesting document in itself.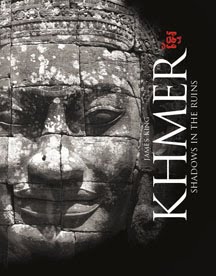 Book Review
The second book to review, is James King's
Khmer: Shadow in the Ruins
, which I loved. Split into eight chapters, this is a photography book from James' two visits to Cambodia, in 1998 and 2007, with 228 pages and full to bursting with both black and white and colour photographs on every page. With 80% of the book dedicated to the temples of Angkor, there is perhaps an over-reliance on those amazing structures from the Khmer Empire of old that are so photogenic but he also graces his pages with snapshots of the locals he encounters en route. It's not clear which photos are from his first or second visit but that doesn't really matter as his book presents a stunning kaleidoscope of images from a country he obviously fell in love with, as do so many who visit Cambodia. I loved many of his his pictures, especially those from Prasat Kravann though his choice of an Andre Malraux quote seems incongruous, considering Malraux was arrested for stealing treasures at Banteay Srei. Besides that, it's a book well worth owning, though it doesn't come cheap.
Labels: James King, Jayne Dunsmuir