Serious Pulse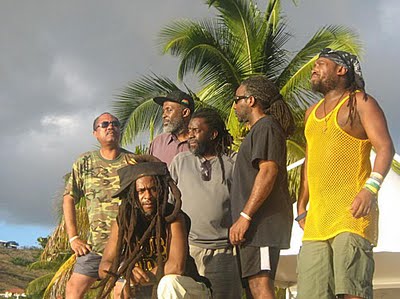 Steel Pulse looking serious. LtoR: Donovan McKitty, David Hinds, Selwyn Brown, Sidney Mills, Wayne C-Sharp Clarke & Amlak Tafari
I haven't posted anything on the best music band on the planet,
Steel Pulse
, for a while, so here's a group photo I found by accident today. The band rarely pose for group shots and this one doesn't include their regular female backing vocalists, Juris Prosper and Keysha McTaggart. I think it was taken sometime in July. The band are on a mini-break at the moment before travelling to Brazil for 4 shows in mid November. They rarely rest. For more on Steel Pulse, click
here
.
Another musician I miss since my migration is
Basil Gabbidon
, a Steel Pulse founding member back in the day. Basil in his various guises, either Gabbidon, Reggaerockz, simply Blu, etc, etc, is still doing the business and the picture below was snapped by Tim Ellis at the Birmingham Arts Festival in September, when Gabbidon played the Fountain stage at Victoria Square. My thanks to Tim.
Labels: Basil Gabbidon, Steel Pulse