Progress report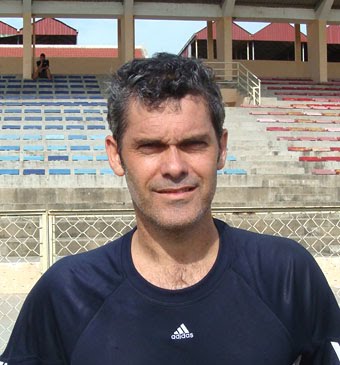 Cambodia's national team coach Scott O'Donell is currently putting his Under-23 squad through its paces in Saigon, Vietnam
The
Cambodian Under-23
football squad have now spent the past three weeks in Vietnam undergoing a rigorous training regime in preparation for the 25th SEA Games that will begin in Vientiane, Laos on 2 December. National team coach Scott O'Donell and his 25-man squad have two more weeks in their training camp at the Thanh Long training facility, half an hour outside of Ho Chi Minh City, before they return home on 5 November. Three days later they will compete in the four-team BIDC Cup that will take place at the Olympic Stadium in Phnom Penh between 8-14 November, and which will act as an important dress rehearsal for the SEA Games that begin a month later. Coach O'Donell has been pleased with his squad's preparations so far. "We have been able to totally focus on our football without any outside distractions and we get to use the excellent training facilities here at Thanh Long. A typical day starts with training at 6.45am and we break for breakfast at 9.30am. We have lunch at 1pm, resume training at 3.45pm, finish for dinner at 6.30pm and are in bed by 10pm. We've been into town a couple of times just to get the players out of the training centre and give them time to relax. But the players know we are not here for a holiday, we are here to prepare for the SEA Games in December. We tested the players on arrival and it showed that our endurance fitness levels were not good enough, which was a little surprising considering the players had just completed the CPL season. We have also been working on technique and tactics and how I want the team to play. We re-tested the players' aerobic fitness levels again today and there has been a big improvement from all the players, after 21 days of hard work," said the Australian-born coach.
There have been a couple of personnel changes to the original 25-man squad that began the training camp in Vietnam. Two Ministry of Defense players, To Vann Thann and Ieng Piseth have arrived to replace Nhuon Chansothea and Chhim Sambo. The squad's main injury concern has been star striker Khim Borey, who missed most of the recent CPL campaign with an ankle injury. To claw back his fitness, he's been undertaking extra training sessions and concentrating on his speed and agility that saw him collect the Golden Boot top scorer award in 2008. O'Donell highlighted the importance of the practice matches the team has played so far, against Ho Chi Minh City and Dong Nai Bien Hoa, both of which they won. "These games are very important because it gives us the chance to try the things we have been working on in training in game situations against strong opposition. You can work all you like on the training field but it's not until the players are under pressure in game situations, that you find out if they understand what we have been working on." The plan is to play three more practice games, beginning with a match against two-timeV-League champions Dong Tam Long An on 28 October, before they return to Phnom Penh.
For O'Donell, the BIDC Cup, with a purse of US$20,000 for the winners, will act as another important stepping stone to the SEA Games. "I will be using the BIDC Cup as a dress rehearsal for the SEA Games. It will be a good opportunity for the players to show what they can do and to confirm their places for the Games. My expectations will be the same for any game that we play - the players go out and try to play good football and to give 100%," stated the coach from their training headquarters just outside of Vietnam's cosmopolitan southern city.
Labels: Cambodia U-23s, Scott O'Donell, SEA Games