Press talk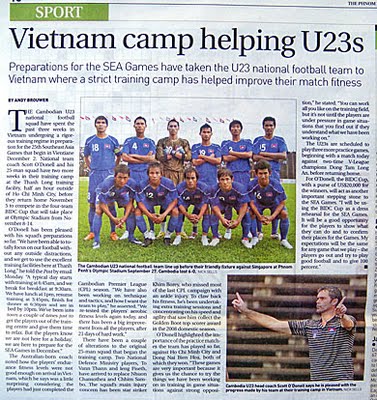 My article in yesterday's Phnom Penh Post on the Cambodian Under-23s ongoing preparation in Vietnam for the BIDC Cup in early November and the SEA Games in Laos in early December. Click
here
to see it online.
The Cambodian Under-23s played their 3rd practice match on Wednesday, drawing 0-0 with the Ho Chi Minh Under-21 team at The Thanh Long training centre. Coach Scott O'Donell commented on the game; "We dominated the first half creating a lot of chances but could not put them away. The 2nd half was more even but still we had some good chances. I was happy with most aspects of our game but our finishing was poor."
There are no injury worries to report from the squad's training camp just outside Saigon. The team are lining up two more practice matches to round off their month-long stint in Vietnam. The likely opponents are Can Tho, who finished 3rd in the V-League 1st Division last season and just lost out in the play-offs for promotion to the V-League proper. Their new coach is Lu Dinh Tuan, the coach at Ho Chi Minh City last season when they were relegated to the 1st Division. The Cambodian youngsters will return to Phnom Penh on 5 November and have two more training sessions before they compete for the BIDC Cup with an opening game against Hoang Anh Gia Lai (HAGL) on 8 November at the Olympic Stadium.
Below are the two new additions to the Cambodian U-23 training squad currently in Vietnam. Both players, Ieng Piseth and To Vann Thann, joined the squad last weekend and both play their football for the Ministry of National Defense team in the CPL.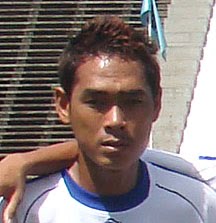 Ieng Piseth (Ministry of National Defense)
Labels: Cambodia U-23s, Phnom Penh Post, Scott O'Donell