My Saturday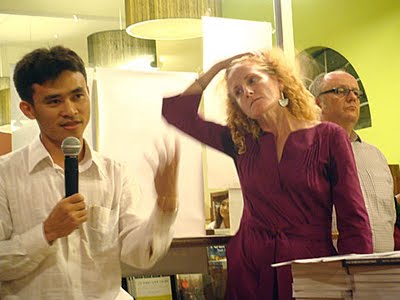 Anne Heindel having a hair moment whilst book contributor Terith Chy has the microphone. William Bagley is behind Anne.
Late lie-in this morning, hence my tardiness with posting. Yesterday, without football to keep me occupied, was a mite boring, as will today be. I did attend the book launch at Monument Books of On Trial: The Khmer Rouge Accountability Process, which saw a legion of who's who turn up from the ECCC (aka the Khmer Rouge Tribunal). One of the co-editors of the book, Anne Heindel gave an interesting overview of the publication and the KR trials, substituting for the main editor John D Ciorciari who couldn't make it. Anne is a legal advisor at DC-Cam who have published the 352-page book. I haven't read it yet, but I'm reliably informed its a damn good read as it tries to put into perspective everything that's happened to-date with the whole process in a collection of essays. Whilst I was at Monument, I got my hands on the novel The Disappeared by Kim Echlin, which I've been keen to read for a while now, and chatting to the GM William Bagley, there will be some more interesting titles in anytime now.
Following the book launch I was off to St 141 to search for the My Brother restaurant, where a party for one of the Hauman staff was in full flow. Ponlok has been the office receptionist for more than 4 years but has now moved on to pastures new and this was her going away party with some of her favourite colleagues. So I was more than happy to be invited, and a good time was had by all.
Labels: On Trial, The Disappeared