My players learnt a lot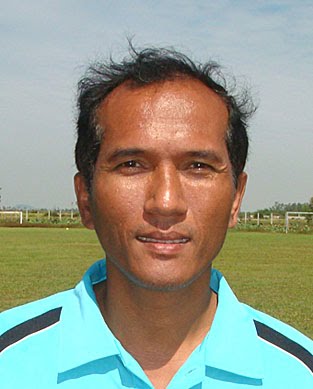 Cambodian national U-19 coach Prak Sovannara
At Wednesday's CPL games at the Olympic Stadium, I grabbed a few minutes with the U-19's coach to get his thoughts on how their recent tournament in Vietnam panned out.
The Cambodian Under-19 football coach, Prak Sovannara, the only A-licensed coach in the country and the man in charge of the full national team for much of the past year, has had time to reflect on the recent Asean Football Federation (AFF) U-19 Championships and the performances of his teenage charges. Although Cambodia lost all three games they played in their group A matches last week, two of those games were against the eventual finalists and all three nations they came up against are much further forward in their youth development programmes than Cambodia are. In fact Cambodia 's youth development is very much at the fledgling stage and the coach managed to get the squad together for just a few sessions before they crossed the border into Vietnam a week before the tournament, held in Ho Chi Minh City , to work on some last minute tactical and teamwork issues.
Cambodia lined-up against bitter rivals and U-19 champions Thailand in their first game and Sovannara was pleased with their application. "My team did a great job, were well organised and we only went behind to a mistake that the Thais took advantage of. After half-time we missed a great chance to equalise and then lost our centre-half, who was sent off. After that, we struggled with the pace of the game and lost 3-0," said the team coach.
Two days later they faced Singapore and put up a showing that Sovannara was proud of. Though they lost 3-1, the coach commented; "We played so well in the first half and led 1-nil at the interval, though a goal from [Prak Mony] Udom. We pushed forward at the start of the second half to get another but our goalkeeper made a mistake and we were punished again. After the previous game, my players were very tired and found it hard to keep up with Singapore ."
"In our final game we faced more tough opponents, Australia. There were no easy games in this competition. We conceded two goals in two minutes just before half time and that was it really. We were physically and mentally tired and couldn't get back into the game despite giving our best," said the man who is also technical director at Preah Khan Reach, who've led the Cambodian Premier League for much of the current season.
"We did our best and I was very pleased with the first half performances in all three matches, we showed great spirit and togetherness and our technical ability matched our opponents. But it was noticeable that we couldn't sustain the speed and intensity of the games. Our physical strength was not up to it and it's clear to me that the leagues in which the other teams play are stronger and faster," bemoaned the coach. "My players learnt a lot from the competition, which is important, and they will take away the fact that their performance levels have to last for the whole game and not just for the first half of matches. I was happy with my squad and in Prak Mony Udom and Keo Sokngorn, I had two players in particular who were confident and strong and who impressed me very much."
There are no more U-19 level matches on the calendar this year though quite a few of the players are expected to feature in the Under-23 squad for the SEA Games in Laos in December, when it's announced by the national coach Scott O'Donell sometime soon. The Cambodia Football Federation have already lined up one friendly fixture for the U-23s, when they welcome their much-fancied Singapore counterparts to the Olympic Stadium on Sunday, 27 September.
Labels: Cambodia football, Prak Sovannara