Golden silence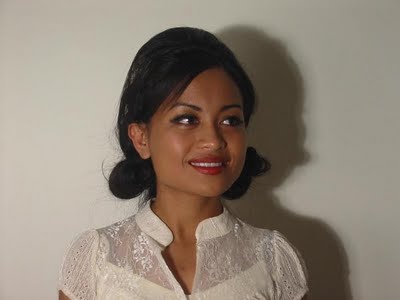 Sophea Pel as Ros Sereysothea

My radar has been on the blink for the past month or so. It must be, or else I would've picked up that film director Greg Cahill and the cast of his film,
The Golden Voice
, have been over here in Cambodia shooting the full length feature film all about the life of the wonderful Khmer singing icon of the 1960s, Ros Sereysothea. It was just over a year ago that Greg was in Phnom Penh to present his excellent 25-minute forerunner of the main feature at Meta House, that had been filmed entirely in the States. At that time he was looking for funding to be able to expand the project into a full-blown movie. Well it seems that he's managed that and filming has been taking place, under a veil of secrecy, in various locations, particularly around Siem Reap. Actress Sophea Pel, who earned rave reviews for her portrayal of Sereysothea, her first serious acting role, was in town for a few weeks for the filming. Read my
interview
with Sophea to find out more about the film. Ros Sereysothea, the darling of Cambodia's music-loving public, was murdered during the Khmer Rouge genocide of the 70s but has left an indelible mark on Cambodian society where her records are still avidly played today. She was part of the vibrant rock n' roll scene that flourished in Cambodia during the 1960s, and was dubbed 'the golden voice of the royal capital' by Prince Sihanouk. As her career soared to an unprecedented level of success, Phnom Penh and Cambodia fell to the Khmer Rouge regime and artists and intellectuals were targeted for execution, including Sereysothea.
Link:
website
.
Labels: Greg Cahill, Ros Sereysothea, Sophea Pel, The Golden Voice