Getting their money's worth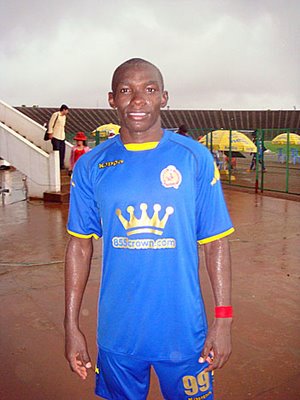 Ousmanou Mohamadou netted twice for Phnom Penh and was later sent off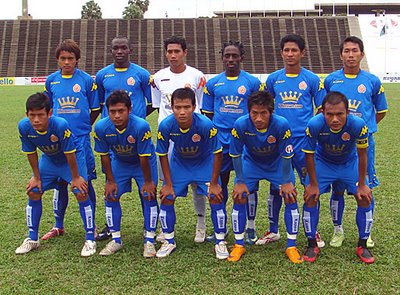 A depleted Phnom Penh Crown line-up did just enough to go into top spot in the CPL
Another two Cambodian Premier League matches this afternoon at the Olympic Stadium, another 11 goals and three players sent off - what more can the football fans of Cambodia ask for in terms of entertainment. They are certainly getting their money's worth (it costs $1 to watch from the main grandstand, sheltered from the sun and rain) and the weather today was pretty mild, though still humid. Phnom Penh Crown, the reigning champions, had the opportunity to go top for the first time this season. They did it but they made heavy weather of their 3-2 win over 2nd from bottom, Post Tel. And in the second match, Khemara Keila also took advantage of the rearranged league programme to move into second spot, beating plucky Build Bright 4-2 and nosing above Preah Khan on goal difference.
Crown and Post Tel fought out an even-steven first half until the champions were rocked by a last minute kidney punch by Durosinmi Adefolarin Gafar, who powered his way through and then finished with a deft touch. It was the shock that Crown needed and they came out guns blazing after the break, scoring three goals in less than fifteen minutes. Striker Ousmanou Mohamadou, who wears 99 on his back, grabbed two of them, with substitute Chan Chhaya outfoxing the keeper for the other. Kao Nisey's tap-in for Post Tel gave Crown a few flutters but they held firm and saw out a 3-2 win to go top. In time added on, both teams lost a player when the referee over-reacted in a minor bust-up and sent off Mohamadou for Crown and Post Tel's skipper Kun Kuon. They didn't win any friends with their style today but Crown have been relentless in hounding down Preah Khan and will be a force to be reckoned with during the second half of the campaign.
Kouch Sokumpheak had his thunder stolen today by his fellow striker Oladiji Olatunde as Khemara moved up to second spot with a comfortable 4-2 success in an open game of football, in which BBU never gave up and in skipper Chhun Sothearath they scored the game's two best goals. Though Sokumpheak, the best homegrown Khmer player in the CPL this term, notched his customary goal midway through the second half, it was the leggy Olatunde who netted in both halves to give Khemara a stranglehold on the game, with their other goal coming courtesy of Loch Ratha. Sothearath's double-strike came on the half-hour when his 40 yard free-kick sailed over everyone and into the top corner, and twenty minutes into the second half with an unstoppable drive from 12 yards. After the game the BBU coach blamed his keeper for three of the goals, which was a bit harsh I thought. Oh, and Khemara lost Sophal Udom late on for two yellow card offences. So 11 goals and two pretty good games of football - I think most of the spectators went home happy, I know I did.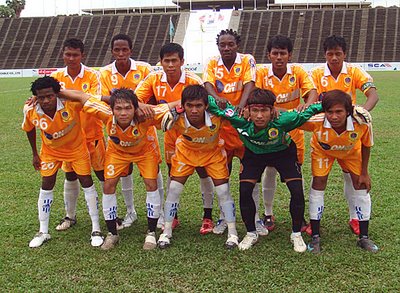 Post Tel took the lead against Crown and never gave up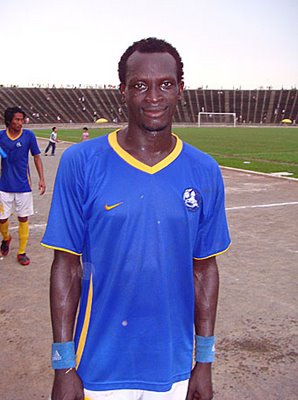 Another two-goal hero today, Khemara's Oladiji Olatunde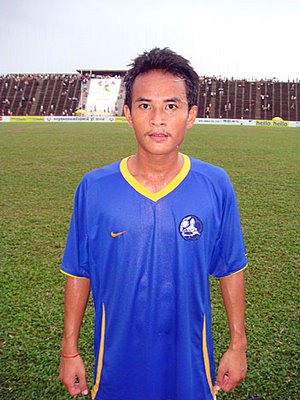 Loch Ratha sccored a first half goal for Khemara against BBU today
Labels: Cambodian Premiern League