Experience is the key
Cambodian U-19 football team
who are in Saigon and competing in the AFF U-19 Youth Championships. Drawn in the same group with the stronger footballing nations of Australia, Thailand and Singapore, it was always a mountain to climb to progress through the group stages and so it has turned out.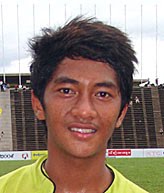 They lost their opening game 3-0 to Thailand on Tuesday and then yesterday, went down 3-1 to Singapore. They will end their tournament against the Australian teenagers on Saturday before returning home. In yesterday's encounter they led after 17 minutes when Preah Khan youngster Prak Mony Udom (pictured) nosed them in front but it it went awry after the half-time interval. Singapore charged back into the game, levelling on 57 minutes and scoring two more in the last ten minutes. In addition to the defeat, Cambodia also suffered a goalkeeping loss when substitute stopper Sou Yaty (Ministry of National Defense) was sent to hospital late on after dislocating his shoulder. It never rains but it pours. The important thing for the squad is to soak up the tournament experience, much the same as the full national team did in the Suzuki Cup last year.
On an entirely separate subject. I received a package from the post office today which was sent to me from Australia exactly five months ago, by recorded airmail. We check our post office box a few times each week so it hasn't been lying around there, instead its been mislaid in transit for the last five months - where... goodness knows. It contained a dvd of the documentary film The Tenth Dancer from 360 Degree Films, sent to me to screen at Meta House. Fortunately, I was able to get another copy from a separate source but it makes me wonder how much more goes missing that I'm not aware of. If you do send me anything, via the Hanuman PO box number, send a confirmatory email as well please.
Labels: AFF U-19, Cambodia football