Coming up next week
In September of last year I watched a new movie by the Khmer Mekong Films team called Heart Talk at Meta House. It was effectively a preview audience screening to get feedback on KMF's 2nd feature-length film. Next week, on Friday 4th September, the film will get its gala premiere at the Sorya Cinema, next to the Central Market, at 7.30pm, under the new name of
Vanished
. It's a suspense-thriller-murder story, starring Saray Sakana, one of the country's rising stars.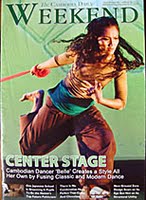 Also coming up soon will be a new performance by the star of Cambodia's contemporary dance scene,
Belle
(as seen on the cover of The Cambodia Daily), who will join with Japanese artists to present a performance at the Parkway Center, 2nd floor, at 6.30pm on Tuesday 1st September. Belle has just returned from Taiwan and will soon take off for a two-month sojourn to Europe to further expand her repertoire.
Next Friday, 4th September, will also mark the beginning of the
Lakhaon Festival
here in Phnom Penh, which'll last for 1 week and include revived and new performances of dance, poetry and spoken theatre by groups such as the Khmer Arts Ensemble, the School of Fine Arts and the Royal Ballet of Cambodia. All performances will take place at the Chenla Theatre from 7pm from the 4th to the 11th, with the Khmer Arts Ensemble and their fertility dance-drama, Ream Eyso and Moni Mekhala, taking place on Monday 7th. If it was up to me, I'd like to see at least five of the 8 shows but I think seats will be at a premium. The plays will be in Khmer with English and French subtitles to make them accessible to all.
Labels: Belle, Khmer Arts Ensemble, Khmer Mekong Films, Vanished