Back in PP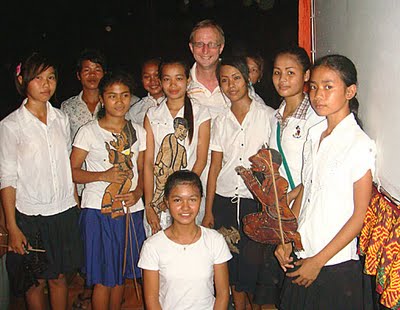 One of the most enjoyable moments came when the girls above performed an evening shadow puppet show at Wat Roka Kandal in Kratie, to our group and the rest of the village
I'm back home after a very enjoyable 4 days along the Mekong River, getting a feel for what the
Mekong Discovery Trail
is all about, seeing the sights with some new friends (also known as tour operator rivals) and visiting a handful of new locations on the Brouwer itinerary. I'll post details of the trip and photos in due course, for now I need a shower and an early night. More tomorrow.
For the record, I wasn't available to cover the
Cambodian Premier League
matches at the weekend, hence the absence of any football round-up. Thank goodness some of you may say. Phnom Penh Crown kept up the pace at the top, beating BBU 3-1, whilst 2nd-placed Preah Khan Reach went down 2-0 to Naga Corp. The CPL's top scorer Prince Justine netted another two as Spark drew 2-2 with Khemara and Kirivong swept aside Phuchung Neak 2-0. PS. The Cambodian U-23 squad was due to play a select Nigerian XI early on Tuesday morning in their first practice match but the heavy rain put paid to my attendance. I later found out it was a 1-1 draw with Prak Mony Udom netting for the national team in their first run-out together despite numerous absences due to injuries and club calls.
Labels: Cambodian Premier League, Mekong River