Who is the real Mam Nay?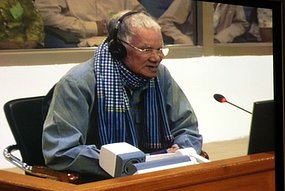 Mam Nay, alias Comrade Chan, giving his version of the truth at the ECCC today
Who is the real Mam Nay? According to evidence collected from S-21 and other sources and amassed by the team at DC-Cam and other historians over the last thirty years, he was the chief interrogator, and one of the most terrifying cadre at the S-21 detention center, known to everyone today as Tuol Sleng. At the time of his tenure, as one of prison chief Duch's trusted lieutenants, he went under the alias of Comrade Chan. But today Mam Nay seems to have suffered a complete memory loss of his position, his role, his involvement in the torture and death of countless victims at S-21, where around 20,000 people went in and never came out alive. Today, during five hours of questioning, Mam Nay gave the same response to dozens of questions: "I had no knowledge of that." He denied holding any position of responsibility at the prison. He told the court he was merely a low-level interrogator who questioned less important detainees: "I did not use torture in my interrogation. I believed I would not get a true confession." However, of the victims he did question, he showed no remorse: "None of them was innocent - those people committed offences, either minor or serious. This was the reason for their arrest. How serious or how minor, I don't know. I was just a plain and simple interrogating cadre." Wearing purple fingerless gloves and a traditional chequered krama, Mam Nay said he remembered very little about S-21 and that he could not recall drafting prison documents shown to the court, which appeared to be signed by him. In fact he said he had trouble even remembering the names of his children after a recent accident at home: "I fell onto the ground and fell unconscious for a while. Since then, I seem to forget a lot." How convenient for a man who penned many interrogation reports that came from the S-21 archives, left behind by the Khmer Rouge staff as they fled the prison in the face of the approaching Vietnamese in January 1979. In his earlier life, Mam Nay had been a teacher, later the principal at a college in Kompong Thom province and very active in politics. He was very tall for a Cambodian, he suffered from severe eczema and when he was jailed at Prey Sar by the Sihanouk regime for his activism, he shared a cell with Duch, where the two became friends. Maybe he has forgotten all of that too. His testimony will continue tomorrow, but frankly it won't be worth the paper it's written on.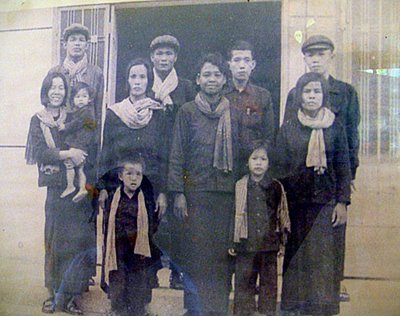 This picture hangs at S-21. On the far left is the tall upright figure of Comrade Chan (Mam Nay). The man without a cap is Comrade Duch, the S-21 chief, with his wife, Chhim Sophal (alias Rom) in front of him. The picture was taken by S-21's chief photographer Nhem En in 1976.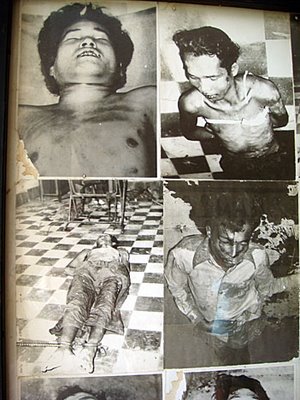 Some more photos from S-21. Prisoners were photographed by Nhem En on arrival, and others were pictured after their death, as shown here.
Labels: Duch, Khmer Rouge Tribunal, Mam Nay, S-21