Samnang Tasok's magic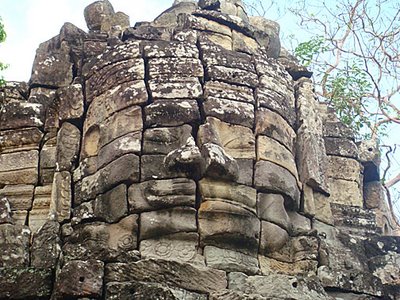 The mysterious east face of Prasat Samnang Tasok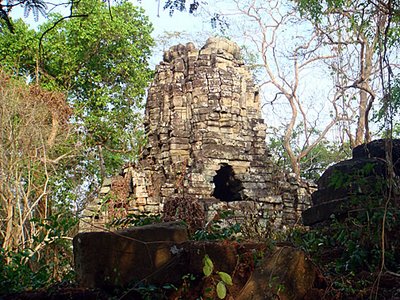 Our first look at Samnang Tasok, showing the east face from the broken gopura
Prasat Samnang Tasok brings back memories. Both good and bad. It's one of the nine satellite temples that surround the main central complex of Banteay Chhmar. The first time I went there in November 2o01 I didn't even know the other temples existed. It wasn't until my January 2005 return to Banteay Chhmar that I had my first opportunity to uncover their whereabouts, thanks to the diminuative Sita and my moto-driver Heang. And they were a great find, especially the temples like Samnang Tasok that were essentially gate-towers with Bayon-style faces looking out in all four directions. With the ruined temples covered in vegetation and dense undergrowth, and seeing those faces peering through the foliage above, this was temple discovery at its very best. For its part, Samnang Tasok had a sting in its tail. Here's my text from that first visit to this satellite temple, located to the east of the main complex:
The path into the complex of Prasat Samnang Tasok was fairly straightforward aside from the ferocious red ants, so standing still was asking for trouble. The floor of the site was covered in thick bushes so it was easier to utilise the walls and roof of the outer gopura to make our way to the central sanctuary, which was topped by four more giant faces and other carvings. Like the majority of the temples we'd located, apart from the three of us, not another soul was anywhere to be seen and the only sounds we heard were birdcalls and the occasional rustle of a lizard amonst the undergrowth. On the way out, I was perched precariously on the lintel of a gateway when two red ants bit into my stomach after crawling up my trousers - I managed to keep my balance, though this final warning from the 'guardians' reminded me that temple exploration has a downside!
On my recent return to Banteay Chhmar, we camped out overnight right alongside the moat that surrounds Samnang Tasok. The temple is still in the midst of undergrowth and still retained that magic feeling as we walked through the tree cover and emerged to find ourselves looking at the stone faces in the forest. Here are some of those faces.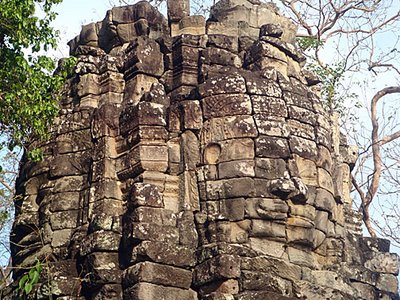 On the left the south face and the east face on the right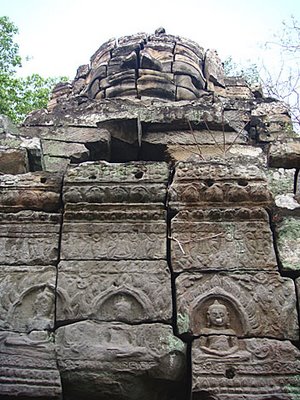 Buddha carvings at the base of the east entrance to the face tower
Labels: Banteay Chhmar, Prasat Samnang Tasok