Out of order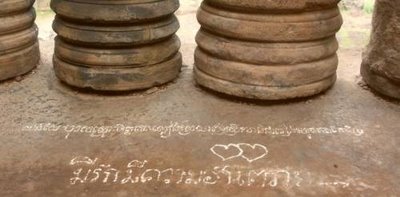 © the eye of Lady Penh
This has really bugged me today. Lady Penh is a new 'what's on' website that is providing a very helpful schedule of events taking place in Phnom Penh each day. However in recent weeks they seem to be branching out into other areas like interviews and today they have a 'picture of the day,' which is when I got angry. Its a photo taken at the Angkorean temple at Phnom Chisor (located south of Phnom Penh) and their caption suggests they have no problem with this type of defacing of an ancient monument.
The caption reads:
Old stones, new love, Fancy a day trip around Phnom Penh? Old stones and new love from Phnom Chisor (off highway 2) - The world will always welcome lovers - as time goes by... With love from Lady Penh!
Sorry guys but that's well out of order. You are condoning the use of graffiti on ancient temples as harmless and that's totally unacceptable in my view. On my travels around the country, I have seen this 'lover's graffiti' at several ancient sites including Phnom Banan in Battambang and Banteay Chhmar and it makes my blood boil. To me it's simple. The perpetrators have no respect for Khmer culture or their own heritage and if caught, they should face stiff penalties. This form of graffiti is one step away from daubing the temples in spray-paint and worse. If we don't take action now to nip this in the bud, it will get worse, as it has around the globe. We are already fighting against the tide of thefts of carvings from the temples. Now we have to teach the youth to respect their heritage and to keep their love letters to themselves.
Don't get me wrong. I'm not against graffiti in its rightful place, ie. an art exhibition or artist's space but ancient monuments are a no-go area for graffiti. I've even posted some on this blog from the derelict hotel on Bokor and from the stairways at Tuol Sleng, but neither examples were harming the essence of the location in my view - although I could argue against myself for the S-21 graffiti! Anyhow, rant over. The folks at Lady Penh do a good job but graffiti on ancient monuments is harmful and should not be condoned.
Labels: Lady Penh, Phnom Chisor