Mixed fortunes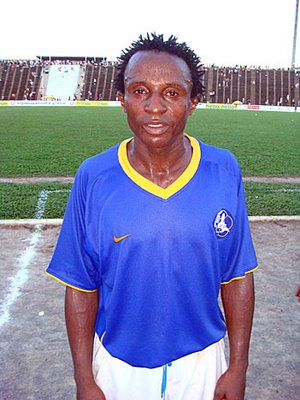 Khemara Keila's David Adeyinka saved the day for his side, 12 minutes from time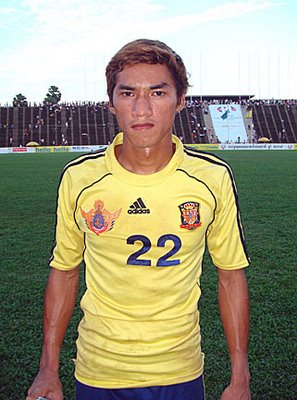 Defense Ministry goalkeeper Sou Yaty saved a penalty but ended up a loser
As Khemara Keila cemented their 3rd place in the Cambodian Premier League this afternoon, one of their top 4 rivals, Naga Corp, came a cropper against Build Bright and are falling behind amongst the also-rans. However, Khemara didn't have it all their own way against the Ministry of Defense team and it took a sneaky near post flick header by David Adeyinka, 12 minutes from time, to quell the army team. It had been one-way traffic for the second half as Khemara sought the win, though the army had shared the spoils in the opening half. Khemara skipper Kouch Sokumpheak will kick himself for under-hitting his penalty just before the interval, which Sou Yaty kept out with his legs, and he had one of those days when he was simply never going to score. Khemara didn't play anything like their usual free-flowing selves but they won, which was the result they needed to keep in touch at the top.
In the first game of the afternoon, Naga looked lethargic and suffering from a heavy hangover after their midweek defeat against Phnom Penh Crown. Build Bright's youthful enthusiasm gave them the edge and two headers gave them a 2 goal lead, through Prum Puth Sethy and Oum Chandara, before Sunday Patrick Okonkwo reduced the deficit on half-time. Two crucial decisions by the referee then turned the game on its head. He disallowed Om Thavrak's header for handball which no-one else saw, and then sent off Naga's sub keeper Chhorm Veasna for scything down an opponent. A few minutes later Chandara thundered in a 3rd goal for BBU and they withstood heavy pressure and a late goal from Sun Sovannarith, to surprise everyone with a 3-2 success. Naga's players looked dejected as they begin to lose touch with the CPL leaders.
The national U-23 team that will travel to the SEA Games in Laos at the end of the year, should be announced at the end of next week following three weeks of trials. This team will form the bulk of the future full national team so it'll be intriguing to see who coach Scott O'Donell will include. At U-19 level, coach Prak Sovannara and his squad will travel to Vietnam on Monday in good time to prepare for the AFF U-19 championships in Saigon starting 4 August. Cambodia are in group B alongside Australia, Laos and Thailand.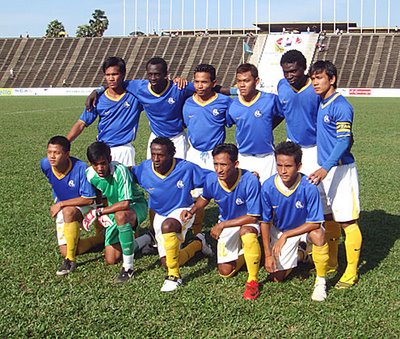 The successful Khemara team, winning 1-nil v Defense Ministry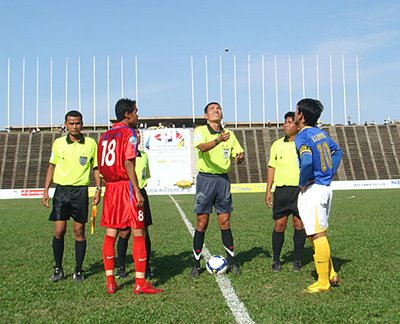 Toss-up of the week - Defense in red, Khemara in blue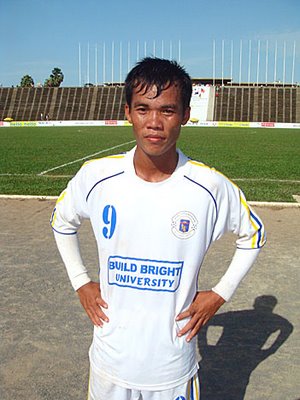 Build Bright's two-goal hero against Naga, Oum Chandara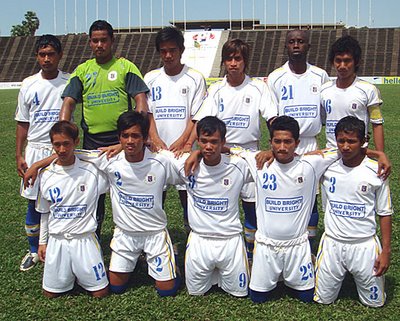 A youthful looking Build Bright United before today's game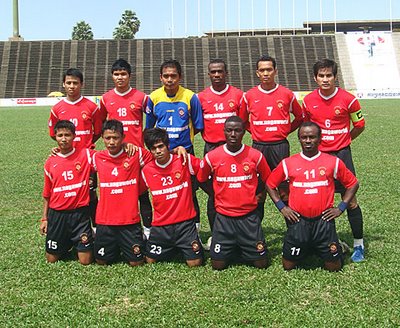 Naga were lethargic and suffering from a lack of fizz against BBU this afternoon
Labels: Cambodian Premier League