Khmer women in the spotlight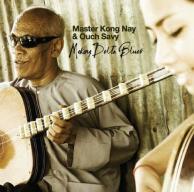 I've seen the legendary chapei master Kong Nay perform quite a few times, but I've never seen his protege, Ouch Savy in the flesh, so to speak. I've even been to her home and chatted to her mother, herself a well-known musician, but Savy and Kong Nay were on tour at the time of my visit. In fact their touring took them to the United Kingdom where they performed at the world-famous WOMAD festival, to great acclaim, as well as in Australia and New Zealand. So I'm eagerly awaiting tonight's Joop session at Meta House, where Savy will perform as part of a multi-media show. As one of the first women to learn the chapei, Savy, in her early twenties, is a pioneer and her duet with Kong Nay - their houses were two metres apart when they lived in the Dey Krahom area until it was levelled - can be heard on the cd from Cambodian Living Arts, Mekong Delta Blues (pictured right).
Tomorrow night, also at Meta House (next to Wat Botum for those who haven't ventured there before), I will be hosting two excellent films that look at two women from the Khmer diaspora, who return to Cambodia in search of their roots and a better understanding of their past. We start at 7pm and Li-Da Kruger's return for the film Belonging will start us off. Li-Da was adopted as a baby by well-to-do parents in the UK but is still determined to track down her real family, if that's still possible after twenty-five years. For Socheata Poeuv in New Year Baby, she knows her parents, or at least she thinks she does but returning to Cambodia opens a window into a world she never knew. Both films are well worth watching.
Labels: Belonging, Kong Nay, New Year Baby, Ouch Savy