Itching to see for myself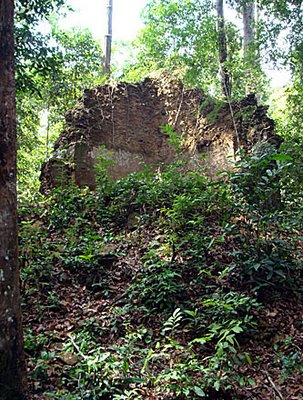 A ruined temple wall at Prasat Trapeang Preus, near Phnom Chi. An example of what you may or may not find on your temple-hunting adventures.
Stories of ancient temples from the Angkorean period being uncovered grab my interest immediately, so the story in today's Cambodia Daily that soldiers have found previously unknown temple ruins near to the Ta Muen temples, on the border with Thailand, have me itching to get out there and see them for myself. The temple, known as
Prasat Dai Kei
, is about 1km from the Thai border and close to Prasat Ta Muen, which is still the scene of disputed ownership between Cambodian and Thai authorities. After receiving information from local villagers, the army located some brick foundations with two walls, two wells and the remains of another five small sites nearby. The Ministry of Culture belives the ruins are from the 11th century and reckons there are more temples waiting to be found along the border. The likelihood of course is that these sites will almost certainly offer up just scattered brick ruins and holes in the ground as a result of scavenging and pillaging in the last 20-30 years by either military or temple robbers. I've seen this time and again where remote ruins are concerned and if you can spot a sandstone doorframe or pedestal in the undergrowth, then you can count yourself lucky. It was in the same northwest region that large sections of the main Banteay Chhmar temple were dismantled by a team of robbers, allegedly soldiers, and shipped over the border and into nearby Thailand about a decade ago.
Labels: Prasat Dai Kei, Prasat Ta Muen