Cambodia's stars of the future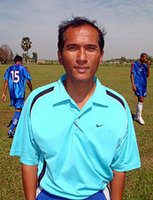 The scene is set for the giantkilling of all time as the cream of Cambodia's budding young football hopefuls take on the young stars from Australia, Thailand and Singapore in the
Asean Football Federation Under-19 Youth Championships
in Saigon next week. Okay, so it's highly unlikely that Cambodia will progress from their group matches against the countries mentioned above, but there's always hope, as national U-19 coach Prak Sovannara (pictured) explains. "I have a good squad, all of the players bar one are with CPL teams and play regularly as well as train full time. I know its a tall order but at youth level I believe we can give a good account of ourselves. I've selected 20 players and we are going to Vietnam a little early so we can get together, train together and play a couple of practice games before it starts for real." Sovannara has spent the last year as coach to the full national team and took them to the Suzuki Cup finals, as well as using his know-how to guide Preah Khan Reach to the top of the CPL, as their technical advisor. If anyone can get the U-19's fired up and ready for the biggest challenge of their budding careers, Sovannara can.
The squad left Phnom Penh at 6am today, taking the overland route to Saigon, where they will prepare themselves for the tournament that begins on 4 August and involves three games in five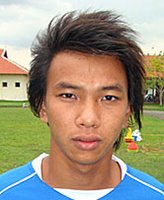 days. Cambodia will face Thailand in their opening Group A game on 4 August and then meet Singapore on 6 August and Australia two days later, on 8 August. After some drop-outs, there are just two groups, with the winners and runners-up moving onto the semi finals on 10 August and the final on 12 August. Notwithstanding the coach's optimistic view, progress from the group stage would be a fantastic achievement for the Cambodian youngsters who number Phnom Penh Crown's wonder-kid Keo Sokngorn (pictured) amongst their ranks. Also included in the 20-man squad are two of the CPL's best goalkeepers this season, Peng Bunchhay and Sou Yaty. A number of the U-19 squad are also likely to feature in the U-23 squad that national coach Scott O'Donell will announce later this week.
With the Ministry of National Defense, Phnom Penh Crown and Preah Khan Reach providing the bulk of the U-19 squad for the tournament, CPL matches involving those three teams will be re-scheduled according to FFC Deputy Secretary May Tola. Prak Sovannara also indicated that the Australians would be sending their U-17 team to compete and he felt that at youth level, Cambodia have nothing to fear from Thailand and Singapore. Fighting talk indeed and if his optimism rubs off onto the players, we might just see that giantkilling I mentioned earlier. The full squad is as follows:
Peng Bunchhay, Soeng Vanthan, Keo Sokngorn, Touch Pacharong, Hong Rathana
(all Phnom Penh Crown),
Sou Yaty, Thong Oudom, Lorn Sotheara, Phuong Soksana, Khek Khemarin, Oum Kumpheak
(all Ministry of Defense),
Chhun Veasna
(Kong Reach Sey),
Tum Saray, Prak Mony Udom, Suon Makara, Sok Chanraksmey, Sok Vannak
(all Preah Khan Reach),
Nhim Sovannara, Ek Vannak
(BBU),
Seng Komsen
(Spark). Coaches: Prak Sovannara, Tep Long Rachana, Ouk Chomrong, Phea Sopheaktra.
Labels: Cambodia football, Prak Sovannara