At a canter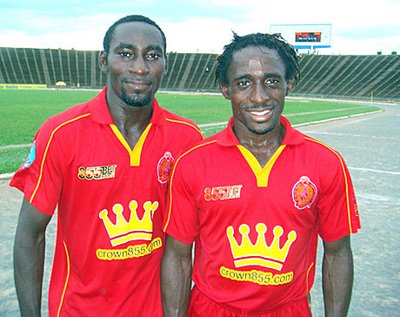 Akeeb Ayoyinka (left) and Oscar Mpoko, the 2nd half goalscorers for Phnom Penh Crown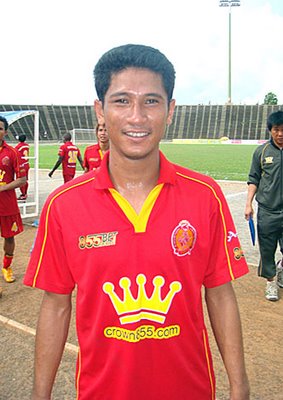 Srey Veasna equalised for Phnom Penh Crown just after half-time
Football is back on the menu after the briefest of mid-season breaks in the Cambodian Premier League and the weather just gets hotter and hotter. It was hard enough just to breathe sitting in the press box this afternoon, goodness knows how the teams manage to play in these sweltering conditions. Talking of the press box, it was full to overflowing at one stage today with no less than six contributors to the Phnom Penh Post newspaper in residence, not to mention their invited guests. Up for our enjoyment at 2pm was one of the title favourites Phnom Penh Crown, who despatched the Ministry of Defence 3-1 but didn't have it all their own way. The diminuative Nov Soseila eluded three defenders to toepoke the opening goal for the Defense team and their lead lasted until a Srey Veasna equaliser five minutes after the break. With Defense losing the country's number 1 Samreth Seiha to injury, his replacement Sou Yaty got his positioning all wrong as the game entered the last five minutes and allowed Koua Oscar Mpoko to lob Crown ahead. In time added on, Akeeb Ayoyinka continued his fine run of form with a third goal, and maybe his last if his transfer to a Turkish team goes ahead.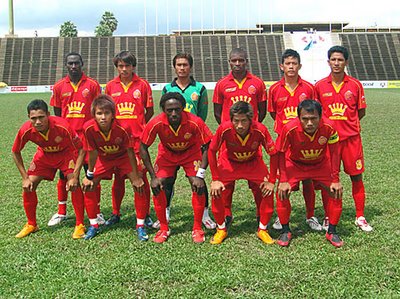 Phnom Penh Crown looking mean and hungry for three points this afternoon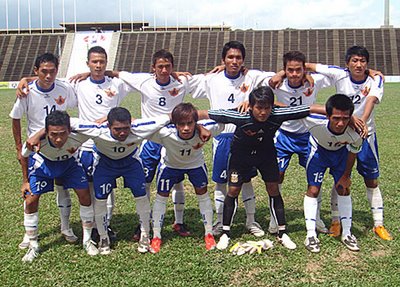 The Ministry of Defense line-up who held out for 85 minutes before going behind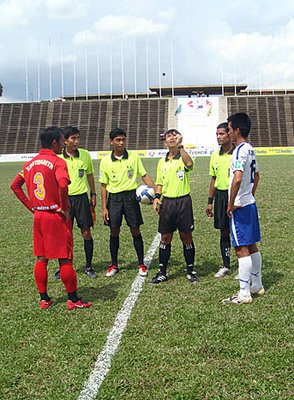 Skippers Sothearith of Crown (red) and Borin of Defense decide on which way to kick-off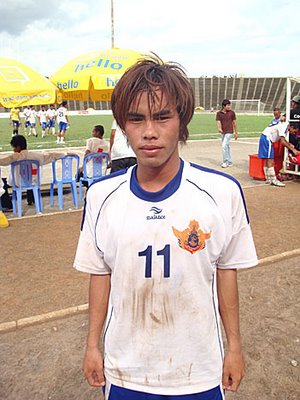 Tiny winger Nov Soseila gave Defense a head start with a well-taken individual goal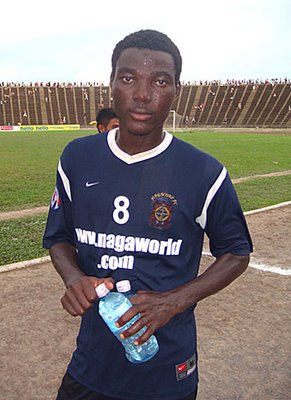 Naga's man-of-the-match Yemi Joseph Oyewole bossed the midfield and scored the opening goal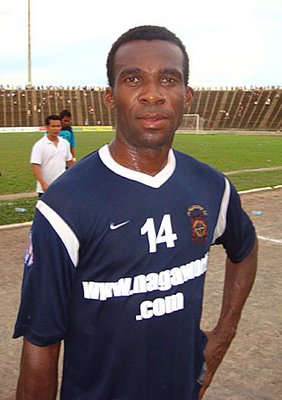 Friday Nwakuna weighed in with Naga's third goal with a couple of minutes left on the clock
In the second game of the afternoon, the result, a 3-nil success for Naga Corp went to form, as they overran Spark, who'd begun brightly but without their suspended top scorer Justine Prince, they proved toothless and quickly faded. Naga, with Yemi Joseph Oyewole pulling the strings in midfield, took the lead when the man-of-the-match lofted a shot from distance into the net. Before half-time, Olajide Olawaseun turned the ball into his own net for number two and the scoring was completed with a couple of minutes to go when Friday Nwakuna finished off a pass from the impressive Teab Vathanak. Both Naga and Phnom Penh Crown won at a canter and showed the difference in class of the haves and have-nots in the CPL.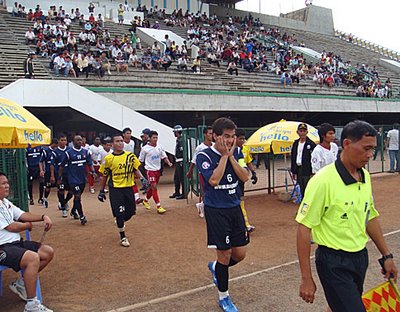 Skipper Om Thavrak leads out his Naga team in dark blue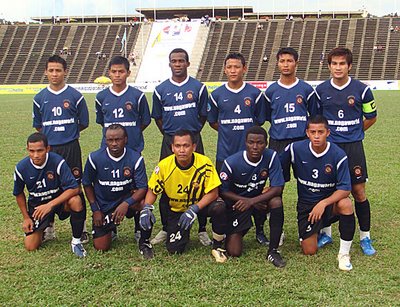 Naga Corp look like they mean business, and they ran out 3-0 winners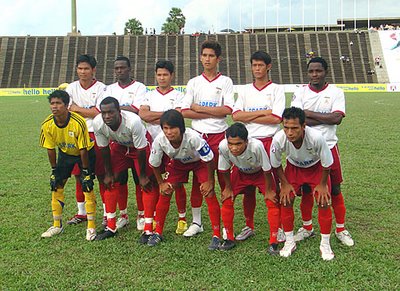 Spark began brightly but quickly faded, losing 3-nil
Labels: Cambodia Premier League