Soksophea in action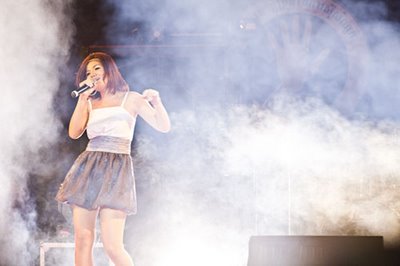 Last Saturday at the Olympic Stadium, thousands of music fans turned up to see the cream of Cambodia's singing talent take to the stage in an anti-corruption rally. I was already at the stadium and had to weave my way through the crowd to leave after watching football, not realising that my favourite female artist,
Meas Soksophea
was performing that night. Damn. However, photographer Nick Sells has sent me a photo of the young lady in action at the concert. Her
What You Don't Know
song remains my favourite tune over here - until the next one. The rally itself has caused a bit of a stir as the American Ambassador made some comments about corruption which has upset some people here. I'm just gutted I didn't get to see Meas Soksophea in the flesh so to speak.
Link:
Nick Sells
.
Labels: Meas Soksophea