Road to Freedom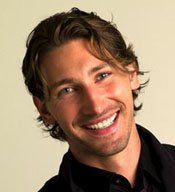 'Camera, lights, quiet on the set please. Action.' You may be hearing this somewhere near you just about now as the film,
The Road to Freedom
, is currently being shot in Cambodia. Where exactly, I don't know. What's it about? Well its the fictionalized story of Sean Flynn and Dana Stone, two photojournalists who were covering the American conflict in SEAsia and who disappeared one day in 1970, captured by the Khmer Rouge. Filming is due to finish at the end of next month with an anticipated release date of January next year. Playing the lead roles are Joshua Fredric Smith (pictured right) as Flynn and Scott Maguire as Stone. The movie-makers in their PR blurb tell us
a prison camp has been built and members of the Cambodian Army are playing themselves. Not sure that is something to shout about. Film
director Brendan Moriarty is calling the shots so to speak, for a film that was originally known as 12:02. Not sure how this ties in with another proposed Flynn & Stone story being developed by veteran photographer and Flynn expert, Tim Page. We shall see. And there's another Flynn biopic in the works too based on the book, Two of the Missing. Follow The Road to Freedom's progress at their
website
.
Labels: Sean Flynn, The Road to Freedom