Out of left field

I've just been hit by a rocket. Not really but the same sort of effect. My series editor at ThingsAsian Press, the adorable Kim Fay, for the unique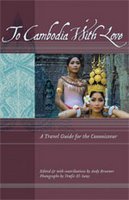 guidebook I'm editing,
To Cambodia With Love
has just asked that I send her everything by this weekend. That's the whole book, in its finished state, or as near to it as possible. It's certainly the wake-up call I need to stop dallying around and get the book completed. I won't make this weekend but it'll be with the series editors at the beginning of next month and that will speed up the guidebook's arrival in bookshops/on Amazon/on the streets of Phnom Penh (in beautifully photocopied format no doubt) considerably. More news as I get it.
I am taking my lunch late this afternoon, so I get the opportunity to watch the midweek Cambodian Premier League matches at Olympic Stadium and both games are, on paper, well worth the effort and discomfort of sitting in the main stand, sweating profusely. Match reports later.
The main news coming out from the Khmer Rouge Tribunal today is that the chief international prosecutor,
Robert Petit
has announced he will quit the trials on 1 September, citing personal reasons. Petit has been with the ECCC for three years and has worked in four war crimes tribunals in the last twenty years. His knowledge and experience has been a vital driving force to the ongoing trials. It was Petit who was keen to get more suspects in the dock to join the five currently awaiting prosecution, though his desires didn't exactly curry favour with the Cambodian authorities. We are still awaiting a final decision on this. His departure, even before the Duch trial is complete, will create a void in the process until a suitable replacement is appointed.
Labels: Khmer Rouge Tribunal, Kim Fay, Robert Petit, To Cambodia With Love