The death of Angkor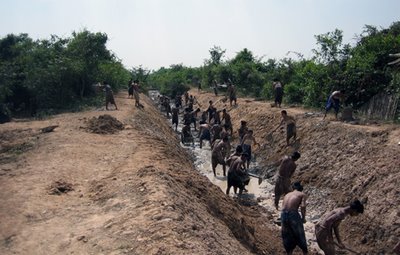 A re-enactment of the canal building process for the film Secrets of Angkor
(Image courtesy Anna Pfluger/Spiegel TV media)
In a story that pops up on the international newswires every month it seems, National Geographic have gone to town on the 'Angkor fell due to water shortages and climate change' theme in the July edition of the Nat Geo Magazine. Read the full story,
Divining Angkor
, by Richard Stone
here
. At the same time, the Nat Geo tv channel is showing the documentary
Secrets of Angkor
. This was shot in 2008 with the help of Hanuman Films, who were selected as the local production company for the National Geographic and ZDF (German television) drama-documentary on the history of Angkor. This was the story of the incredible hydraulic system of Angkor and how it ultimately contributed to both the rise and the fall of this great civilization. Several actors flew in from Germany for the drama scenes, which included the recreation of an Angkor-era market and the opening of an ancient canal, complete with dozens of labourers in ancient costume. Locations included many of the leading temples at Angkor such as Angkor Wat, Bayon, Ta Prohm, Preah Khan, Beng Mealea, Kbal Spean and Phnom Kulen.
Labels: Divining Angkor, Hanuman Films, National Geographic