Cambodian premiere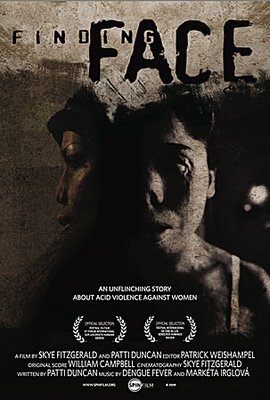 Tonight's film, that we kept under wraps for safety reasons before the screening, seemed to go down well with the invited packed crowd at Meta House.
Finding Face
was given its Cambodian premiere having only had its first ever showing in Geneva in March. The safety aspect related to the family, who are still living in Cambodia, of the film's main subject, the singer Tat Marina, who was disfigured by an acid attack in 1999. The attack on Marina signalled a spate of copycat attacks which still continue today. As for Marina, she is rebuilding her life in America and that was the heart-warming part of an otherwise at times sombre film that highlights a culture of impunity and lack of justice for victims that shows no sign of dissipating. Directors Skye Fitzgerald and Patti Duncan did a good job of telling the Marina story without over-egging or sensationalizing it. Read more
here
.
For the month of July,
Meta House
will present its usual eclectic mix of film screenings, discussions and a brand new Global Hybrid exhibition from the 2nd, with works from Khmer and US-based artists, such as Ouer Sokuntevy, Leang Seckon and Stephane Janin. My pick of the film screenings start with the evening when I will present a double-bill of
Belonging
and New Year Baby on Friday 10th at 7pm, in which two women return to find their roots in Cambodia. It will be the first showing of the Tamara Gordon-directed documentary Belonging here in Cambodia, the story of Li-Da Kruger, who left Phnom Penh as a baby and who returns to find the truth about her past. More
here
. This Friday, 3rd, Out of the Poison Tree - the return of Thida Butt Mam to the country of her birth - gets another screening, alongwith Kampuchea Death & Rebirth, a film shot after the Khmer Rouge left the city in 1979. On Thursday 9th a night of poetry, music and film includes the female chapei player Ouch Savy, while Saturday 11th will host the first ever Cambodian movie featuring a taboo lesbian love story in Who Am I? Dengue Fever's Sleepwalking Through The Mekong gets another airing on Friday 17th and Rithy Panh's film, Burnt Theater, will be screened on Tuesday 21st. And there's lots more besides.
Labels: Belonging, Finding Face, Meta House, Skye Fitzgerald, Tat Marina