The Building at Bophana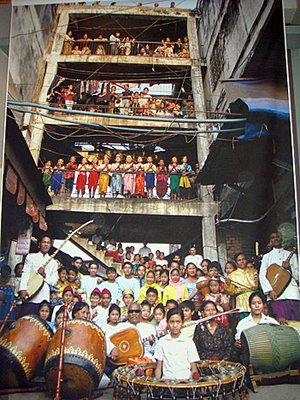 A picture taken of the Cambodian Living Arts performers that live or rehearse in The White Building, lots are still there today but others have been moved on
As no invite to the Promesses party was forthcoming - though the traffic jammed my road from 6.30pm onwards as the ladies in cocktail dresses began to arrive - I went for a shave and shampoo after work and then hopped on a moto to Bophana for The Building photographic exhibition. It was packed solid with more expats that I thought were in the city and a horde of Khmers too. Why do I never get crowds like this when I put something on? Which reminds me, Monday 29th June at Meta House, a film you really do not want to miss. I can't tell you the title just yet but it's been all over the newswires in recent weeks when it had its world premiere in Europe. More on that later.
The Building - an urban story of Cambodia
exhibition was okay, nothing to shout too loudly about but at least through a combination of photos and information displays boards I found out more than I knew before. So that's a good sign. There's a few film screenings linked to the exhibition, which is on Street 200, and the two short documentaries on 20 June catch the eye as they will depict the lives of the Cambodian Living Arts performers who are residents. A week later on 27 June, Rithy Panh's film Paper Cannot Wrap Embers will be screened. It was filmed at The Building. The exhibition is on until 4 July, get along if you can.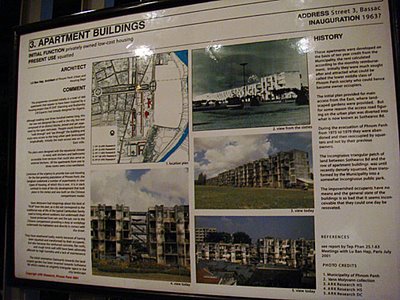 An exhibition information board at Bophana explaining the White Building that was originally apartment blocks
Labels: Bophana Center, The Building