Brother Number One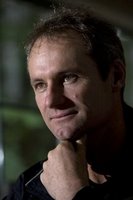 The only foreigner likely to take the stand to confront Comrade Duch at the Khmer Rouge Tribunal later this year will be
Rob Hamill
(pictured),
an Olympic and Trans-Atlantic champion rower
, whose brother Kerry was murdered by the Khmer Rouge at Tuol Sleng. A film,
Brother Number One
, is being made that follows Rob's journey to Cambodia to find out the truth of what happened to his beloved elder brother.


In the mid-70s, Kerry bought a yacht, Foxy Lady, and was running a charter business out of Darwin around South East Asia with a Canadian friend, Stuart Glass. Along with a Brit John Dewhirst, they were sailing towards Bangkok when they hit a storm. Mistakenly entering Cambodian waters, Foxy Lady was seized on Koh Tang, Stuart Glass shot and killed, while the other two men were taken to the notorious Tuol Sleng prison, overseen by Duch. The two friends were killed in the final days of the Khmer Rouge stranglehold on Phnom Penh before the Vietnamese invasion at the beginning of 1979.


Rob Hamill will travel to Cambodia to retrace the steps taken by his brother and John Dewhirst, speaking to eyewitnesses, perpetrators and survivors. Rob's journey will culminate in his giving a Victim's Statement before the Extraordinary Chambers of the Court of Cambodia.
The film will also explore the history of Cambodia in an attempt to comprehend the enormity of the genocide that occurred in Khmer Rouge years. Directing the film is award-winning Annie Goldson and filming has already taken place in the US and England. Historians Elizabeth Becker, Ben Kiernan and Peter Maguire alongwith John Dewhirst's sister Hilary have been interviewed. You can keep up to date with the documentary at their
blog
.
Labels: Brother Number One, Khmer Rouge Tribunal, Rob Hamill