All change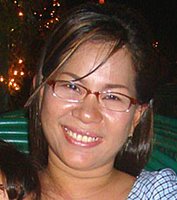 A very quiet start to the week as far as I'm concerned - though my skin problem is already returning as I reduce the volume of my medication - though lots going on for some of my friends.
Vy
, who lives and works in Sihanoukville, is off to see friends and former work colleagues in France at the start of next week for three weeks. It's taken a while to get her visa processed, even though she's been abroad before when she went to India as a representative of Cambodia's youth a few years ago. It'll be a great experience for her I'm sure. Last night she went out with Sophoin, to celebrate the latter's birthday at a disco in S'ville - they both have hangovers this morning they tell me. As for
Sophoin
, she has recently got involved with an NGO to provide schooling and help for young girls in Phnom Penh as part of her tie-in with the Soroptimist
group in Australia that provide the funds for her own university studies. On the domestic front,
Sokheng
(pictured right), who has been a godsend to me since I moved here to live a couple of years ago, helping me with a myriad of things and generally making my life easier, is getting engaged on the 28th of this month and will have a party in Kien Svay. It's a bit of a surprise and as I'm having lunch with her today, I will find out more. Sokheng works with Wildlife Conservation here in the city. In Kompong Thom, my best pal
Sokhom
is moving house. He's lived in a small wooden shack on the side of National Highway 6 for many years and after a court battle with a neighbour claiming his land, he and his family will move to a new house next to his in-laws, just around the corner.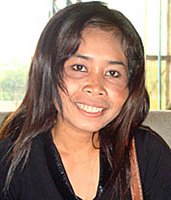 At Angkor,
Now
(pictured left) has recently changed her location for selling souvenirs. For a long while she's been selling from her pitch amongst the gaggle of stalls that line the walkway on the north side next to the pond at the front of Angkor Wat. However, as she doesn't work for herself, she has to go where the need is, and as a result she has switched to a much quieter pitch at the eastern entrance of Banteay Kdei. On the plus side it's not far from her home. In the next week or so she will leave her stall for a few days to help her family with rice planting, which she says is back-breaking work in the scorching heat of the day, but is also a good time for the family to work together and enjoy each other's company. And in Cambodia that is very important.