Dancing for the King

Busy boy as I am, I met Ravynn Karet-Coxen and Nick Wood for breakfast at Java to find out more about the
Nginn Karet Foundation
that is providing help to 14 villages in the Banteay Srei district of Siem Reap with health, education, agriculture and a dance school, which was recently named the NKFC Conservatoire Preah Ream Bopha Devi. Over 2,500 families are getting direct help from the foundation, though its not all one way help, as the families have to meet criteria to earn the help on offer. The dance school has nearly 150 students and they have recently performed for the King in Phnom Penh and then held a sacred ceremony at the temple of Banteay Srei in honour of the King's birthday. You can read more about the Nginn Karet Foundation
here
and
here
. Brit Nick Wood is the founder of Navigator Films and he's been living in Cambodia for the last eight years, working on various film and television projects including the popular At The Factory Gates which has been a regular on Khmer tv about the plight of garment workers. Nick's current project is much further from home, in Columbia to be precise and focuses on the severe landmine problem that country is facing.
At lunchtime, I met up with Cristiano who was in town for the day and he told me he is nearing the end of his exhaustive exploration of Kompong Thom province. Over the last few years Cristiano has visited every ancient site in the province, well over 400, and has logged all of his findings, both big and small. It was with Cristiano that I made the trip to Phnom Chi just over a year ago. In a recent expedition into the countryside west of Kompong Thom, he uncovered an early brick temple, still standing, that is not recorded on any map or document. It was ten kilometres from the nearest village and in a very remote location, and his driver for this trip was another great friend of mine, Sokhom. Its another example of the secrets that still lie within the confines of Cambodia, waiting to be uncovered. Cristiano's temple searches in Kompong Thom will provide invaluable information about the province's cultural history - it's just a pity there is not a Cristiano in every province in this country.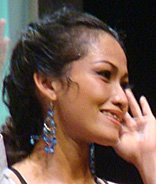 Later this afternoon, a surprise visitor to my office was the young woman who seems to single-handedly carry the expectation of a nation on her graceful shoulders as far as the future of contemporary dance is concerned.
Belle
(Chumvan Sodhachivy) is a lady in demand, her name is rarely out of the newspapers and that's quite a heavy burden on a young Khmer woman in my view. For her part, Belle (pictured right) is focused on her art, she felt from an early age of her dance training that she wanted to express herself and to find new ways to do that outside the strict confines of traditional classical dance. With the support of her mother she has done exactly that, and is leading from the front as contemporary dance begins to take a foothold amongst the artistic community and audience in Phnom Penh. Working with the French Cultural Center for the last six months has broadened her horizons even further and she won't stop there. She is open to any artform, recently working with hip-hop artists for example, has plans to travel abroad to seek more influences and to incorporate those into her choreography in the future. Belle is on a mission to take dance to another level and with an incredible track record so far, I'll bet she will definitely succeed.
Labels: Belle, Nginn Karet Foundation