Cambodia's new coach?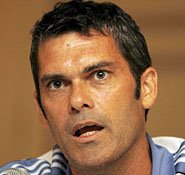 The air was thick with rumour and intrigue at this afternoon's Cambodia Premier League matches at the Olympic Stadium. I'll bring you the results in another posting but the most important development is in the form of a new team coach for the senior Cambodia national team. It was no coincidence that
Scott O'Donell
(right: Getty Images) has been at the Olympic Stadium for the last two weekends and the word on the terraces is that he will be taking over the reins of a role he has held before. The 42 year old played his football in Australia, Malaysia and Singapore before spells in charge at Geylang United (Singapore) and as the Cambodia coach in 2005 for a couple of years, whilst also appearing on ESPN television as a football pundit. More recently he's been director of coaching education with the Asian Football Confederation in Kuala Lumpur, holds the AFC's A certificate and a national coaching license from Australia. His family live in Phnom Penh so that's a good reason to be seen here but there's a big desire at the Cambodian Football Federation to have a coach with overseas experience and O'Donell fits that bill. For the past year Cambodia's best coach Prak Sovannara has been in charge of the national team, taking them to the finals of the Suzuki Cup and just missing out on a place in next year's AFC finals. So far this season, he has been helping with the coaching at league leaders Preah Khan Reach as his contract with the national team wasn't renewed and he was working on a match by match basis. I must repeat that this has not been confirmed by the FFC but watch this space.
Update:
I've just had confirmation from Scott O'Donell himself - he's the new head coach of the Cambodia national team.
Labels: Cambodia football, Scott O'Donell