Ancestors of Angkor
The National Museum in Phnom Penh will tonight open a brand new exhibition called
The Ancestors of Angkor
, which will display the results of recent research into the prehistory of the Angkor region in the shape of a 3,000 year old skeleton, pottery shards and a recreation of an excavation site. The EFEO excavated two sites in the Angkor Park; a 2,000 year old village located next to the Western Baray and an older burial site, uncovered when the baray dried up during 2004 and 2005, and their findings form the exhibit, the first of its kind on the pre-Angkor period. The exhibition is located in the museum's north wing and will run through to the end of the year.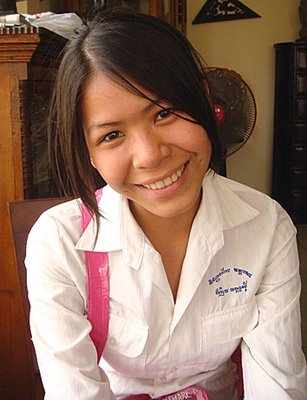 I had an unexpected but very welcome visitor to my office today in the form of my god-daughter
Vansy
(above), who I haven't seen for quite a few months. She's been kept busy with her school studies but she found time to pop in and update me on how she's doing at school and I updated her on my recent activities including my flying visit to Singapore for my medical emergency and my subsequent trip to Preah Vihear and beyond. It was great to see her again, she looked happy and healthy and obviously life in the big city is treating her well. She told me all about her Khmer New Year spent with her family in her village in Kien Svay district and we'll catch up again sometime soon.
Labels: National Museum, Vansy