The word from Dhaka

Cambodia's national coach
Prak Sovannara
is not a happy man, despite his team beating Macau 2-1 yesterday to register their first win of the AFC Challenge Cup qualifying group matches being played in Dhaka in Bangladesh. In a match he had expected his team to win comfortably, his players failed to find their goal-scoring touch and I think in the dressing-room afterwards, they would've been left in no doubt as to his feelings. However, in the scramble for qualification places, Cambodia's shyness in front of goal in this game may not be as damaging as at first glance. With the group winners getting automatic qualification, the last qualifying place for next year's finals will go to the best-ranked of the runners-up in the four groups, and results against the lowest-placed team in the group may not count. It starts to get a bit complicated and there are a few variations according to the competition's rules, but the bottom-line is that qualification is still up for grabs by all three teams, Cambodia, Myanmar and Bangladesh and so tomorrow's final group games will settle the issue. Cambodia will meet group leaders Myanmar (kick-off 4.30pm), who already have six points after they defeated the hosts Bangladesh 2-1 yesterday. Myanmar need a point to secure the group title, whilst Cambodia need to win to keep alive their hopes of qualification. In the other game, Bangladesh take on bottom team Macau (kick-off 7pm) and they too need to win to push their claims for a place in the finals. It all adds up to an intriguing last day of Group A.
Back to the game against Macau. Team coach Sovannara rang the changes for this, their second game of the competition, including Om Thavrak, Khoun Laboravy and Keo Sokngorn from the start, with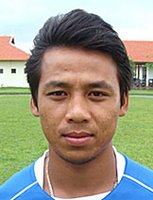 Pok Chanthan sidelined through injury and regular striker Kouch Sokumpheak amongst the substitutes. With the coach's instructions to attack their opponents from the first whistle, Cambodia began with a flourish and took a 12th minute lead when Teab Vathanak (pictured) controlled a pass from Khim Borey and scored with a low drive into the corner. So far so good. With Cambodia dominating possession, Sovannara made two first-half substitutions, bringing on San Narith and Sokumpheak to add to his attacking options, but it was his team's inability to convert a hatful of goal-scoring chances that left them with just a 1-goal half-time lead. The coach was not happy, as he explained to me. "We began well, with perfect tactics and strategy and had about 80% of the play, creating at least six golden opportunities to score. I also made two changes in my team to give us even more attacking options. But my players lost concentration at the vital moment and we lost the opportunity to add to our early goal," he said.
For the second half, and with Macau visibly tiring in the scorching 39C afternoon heat, Sovannara encouraged his team to apply even more pressure in the final third. This paid off when Keo Sokngorn rewarded the coach's decision to include him from the start, with a tap-in after a corner had struck the woodwork, on 66 minutes. It was all Cambodia again as they kept possession and pushed forward but with Macau getting players behind the ball and frustrating their opponents, it was the group underdogs who grabbed a surprise consolation goal with fifteen minutes remaining. In their only serious attack of the game, a free-kick into a crowded penalty area fell to Che Chi Man and he bundled the ball in past an otherwise redundant Samreth Seiha in the Cambodia goal.
Whilst celebrating their 2-1 success, Sovannara had expected more goals from his team. "Sometimes you need a bit of luck in front of goal and today we didn't have any. We created so many good chances but only took two of them. My team gave a good performance in terms of possession of the ball and taking the game to the opponents, they followed my instructions but we lost concentration at vital times and often, we were too hungry to score and missed the opportunity. In the second half, Macau defended in numbers and gave us fewer chances and their goal came from one silly mistake. We were definitely better than in our first game, but had there been more than a day's gap in between matches, I think we would've performed even better." Now all eyes turn towards tomorrow's final group matches. "I have no injuries so will choose from a full team against Myanmar. I hope we will win if my players keep doing the right things, show their fighting team spirit and have a strong mental approach. It will be a very tough game but I will encourage my players to believe in themselves that they can achieve a positive result," said the Cambodia coach by email this afternoon.
Labels: Cambodia football, Prak Sovannara