Red Sense Soundtrack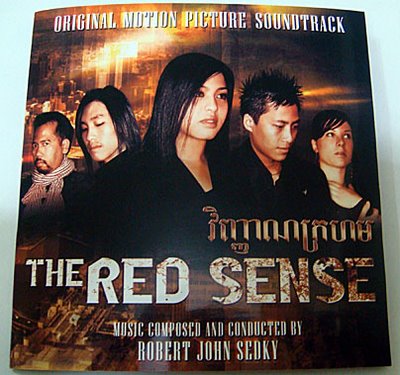 I had the pleasure of listening to the complete film soundtrack to
The Red Sense
for the very first time this evening. Now I'm an old-hand at listening to film soundtracks, having been a connoisseur of Ennio Morricone's work for a long while, and the 13-track CD for the Australian-made film based on the fall-out from the Khmer Rouge regime in Cambodia that will get its Phnom Penh premiere at Meta House this coming Friday at 7pm (24th April) fits snugly into the thriller genre. Composed by Robert John Sedky, it has suspenseful music oozing from every pour, high-pitched vocals and tinkling of the sort that Morricone himself made famous in his spaghetti westerns. By the third listen I was hooked, especially with the main theme songs, Svaeng Rouk Pop Tmei (aka Walk to Freedom), sung by Khmer pop starlet Meas Soksophea and Phoeurk Chantha, and Jimi Lundy's plaintive Cambodia, both of which add a welcome, albeit wistful, break from the tension and anxiety imposed by the preceding tracks. It's Sedky's debut film score, which he composed in 2007, and sets a high bar for his future work to reach. It's also another feather in the cap for filmmaker Tim Pek and his debut film, which was premiered in Melbourne, Australia in March 2008.
The CD tracks are:
My Father; Brother's Remorse; The Lost Son; Law of Nature; Memories of All Mothers; River of Two; Farewell My Daughter; Through My Heart; Train of Thought; Svaeng Rouk Pop Tmei, aka Walk to Freedom; Cambodia; Showdown; Final Solution.
Where can you buy it? At the moment the CD soundtrack is not available as I was given a pre-release copy. Keep your eyes open for release information.
Labels: Robert John Sedky, The Red Sense