Press talk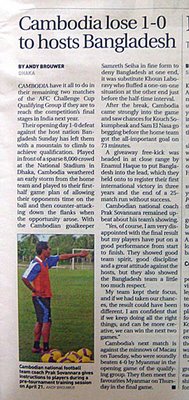 In today's Phnom Penh Post, inside back page - click to enlarge

The Bangladesh game is now history as far as Cambodia are concerned. They now have to concentrate on winning their two remaining matches in the

AFC Challenge Cup

qualifying competition in Dhaka and will be gunning for goals in this afternoon's match against the minnows of the group, Macau.
With Dhaka recording temperatures of over 38.7C, the highest in fourteen years, both teams will have to take account of the scorching afternoon heat but for Cambodia it's literally do or die in this match, a win, and a win by a good margin is essential to have any chance of going into their final match with Myanmar on Thursday with qualification still a possibility. They'll kick off at 4.30pm Cambodia-time, with the two winners from the first round of games, Bangladesh and Myanmar beginning their game at 7pm tonight. Cambodia beat Macau 3-1 in May last year at the last meeting of the two teams though will be seeking an even better result this time around, with coach Prak Sovannara promising a formation that will get at the Macau 5-man defence from the start.
Note:
To read the Bangladesh match report in the Phnom Penh Post, click
here
.
Labels: AFC Cup, Cambodia football, Phnom Penh Post