Pek on Pek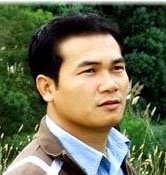 In the run up to the first screening of
The Red Sense
in Phnom Penh - it will be screened at Meta House, next to Wat Botum, on
Friday 24 April at 7pm
- here's a brief interview with the film's director
Tim Pek
(pictured), a Cambodian now relocated to Melbourne in Australia, where he combined shooting his debut film with a number of scenes shot in Cambodia. Three years in the making, he employed Khmer actors, speaking in Khmer, with English subtitles. Find out more about the film
here
.
Here's the interview:
'I was born in Battambang and raised in a decent family, we ran a mixed business back in Cambodia, but unfortunately I only lived there for 8 years. So not much in the way of good childhood memories, moreso I recall seeing those terrified survivors from the Khmer Rouge regime, literally a hell on earth. And still haunting me, which I have never forgot.
A few years after the civil war, my family decided to leave everything and escaped to Khao-I-Dang camp as refugees in Thailand for 4 years before settling in Australia, and now living in Melbourne, one of the best cities in the world in my opinion.
Before getting heavily involved in The Red Sense project, I got motivated and inspired by a few short films back in the early 2005, from friends in Melbourne. I'd been very interested in this medium and always had dreams to make films since I was in my teens, but back then it was quite impossible to do so, everything were so expensive and was simply too hard to achieve when I was at college. In early 2000 I got myself a job and gained an abundance of designing and video skills which then gave me the confidence to make a film in such scale, and ironically its my debut film.
I urge all Khmer people living everywhere to pay respect and support to those hard-working Cambodian film directors and producers to make more films, as you know our film production is in rapid decline. I believe they can make good films so please support them and lets get back to making films like we did in the golden era of the 60s and 70s.

Finally, I have other two projects in post production, Bokator and Annoyed, hopefully they will be available on DVD later this year and can be searched in google.com.'

Labels: The Red Sense, Tim Pek