National team news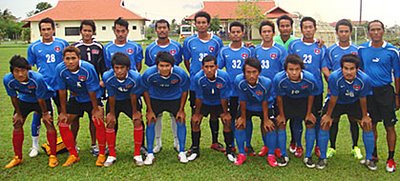 What I didn't put in my article for the Phnom Penh Post was a few words about the player selection by Cambodia football coach Prak Sovannara. Initially he named a 22-man squad, which he took to the two-week training camp in Vietnam and has now reduced that to an 18-man squad who will fly out to Bangladesh tomorrow morning.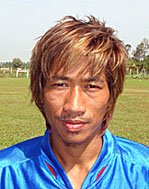 The most obvious omission from the squad that will take on the host nation in the first game on Sunday evening is that of left-foot wizard Chan Rithy (pictured), who captained Phnom Penh Crown to the Cambodian Premier League championship last season and was in the team that won the Hun Sen Cup recently. On his day Rithy can be a match-winner, but I have seen a few of his games, for both club and country and it's his lack of consistency that leaves a question mark. Not for the first time, there has also been talk of him plying his footballing trade in Thailand in the near future, but in the meantime, he won't be travelling with the Cambodia team to the AFC Challenge Cup qualifying matches. The other players who didn't make the final squad are Phnom Penh Crown's young goalkeeper Peng Bunchhay, defender Sok Rithy and midfielder Ngoun Chansothea, both from Preah Khan Reach.
One feature of Sovannara's Bangladesh squad is the return to the national fold of three players, all from the Naga Corp team, who were regular squad members in 2007 but didn't feature in the Suzuki Cup games last year. They are the dominating presence of Naga Corp skipper and lynchpin Om Thavrak at the centre of defence, playmaker Pok Chanthan in the middle of the park and striker Teab Vathanak. These three individuals will add some grit, know-how and experience to an otherwise young squad, that is epitomised by the precocious talent of Keo Sokngorn, another member of the successful Crown club side, for whom he scored the winning goal in their recent Hun Sen Cup victory. The only injury concern I could detect from the training session I attended this week was an ice-pack on the left hip of striker Kouch Sokumpheak, but he assured me he would be fit for the games that begin on Sunday when Cambodia meet the host nation Bangladesh in the national stadium in Dhaka.
Labels: Cambodia football, Prak Sovannara